Attorney calls fee award in easement suits 'grossly inadequate'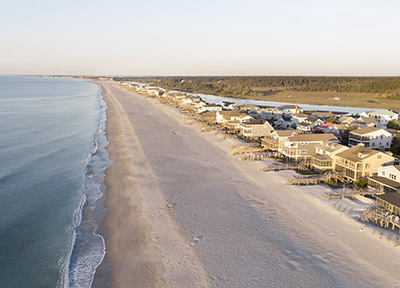 The town has 110 of the 113 easements it needs to get federal aid for future renourishment on the south end.
An award of $8,000 in attorney's fees rather than the $60,000 sought by two Pawleys Island property owners who challenged the town's efforts to condemn easements on their property for beach renourishment is "grossly inadequate," their attorney said in a court filing.
Barry Stanton, a property owner and attorney who successfully represented himself and two neighbors to challenge the condemnation, has asked Judge Michael Nettles to reconsider his decision to award $8,0000 in fees to the other owners, Frank Beattie and Sunset Lodge LLC. Stanton did not ask for fees for representing himself in the suits, filed Nettles quashed the condemnation attempts in January. The property owners asked for a total $120,396.67 in attorney's fees. The town challenged that figure.
Last month, Beattie sided with the town saying that the claims were "disproportionate and unreasonable in relation to the nature, extent and difficulty of the litigation."
In his latest filing, Stanton argues that the judge made several errors in concluding that the property owners should only be reimbursed for 125 hours of his time rather than the 950 that were the basis of the fee claim.
Stanton pointed out that the town itself spent 320 hours on the suits, "well over $80,000" at $250 an hour. He charged $190 an hour, which Nettles found reasonable.
Stanton said the court was wrong to accept the affidavits of the town's attorney, Will Dillard, and a "nonexpert opinion witness" David Pagliarini about the scope of the case.
Dillard took over for the Town Attorney David DuRant after the court ruled for the property owners. Pagliarini, a eminent domain attorney in Charleston, said his review of the case filings made $8,000 a reasonable fee for the result.
Their affidavits "wholly left out relevant and necessary tasks and events," Stanton said.
In 125 hours "it would have been physically impossible for any reputable lawyer other than an omniscient one assured in advance of the actions of the adversary and the disposition of the judge to have successfully challenged the Town's attempts," he said in the filing.
He added that reducing the hours to 125 "constitutes an abuse of discretion as that term is defined in the law."
While Nettles said that the property owners prevailed because the town failed to follow the condemnation procedure outlined in state law, Stanton said the case went beyond procedure. "They were instances of substantial dishonesty" that could have barred any condemnation, he said.