Ban of onshore facilities for offshore oil advances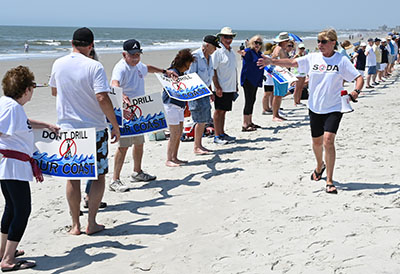 Residents and visitors rally against offshore drilling last summer at North Litchfield.
A bill that would make a temporary ban on onshore infrastructure for offshore drilling permanent was approved by a state Senate committee this week. Opponents of federal proposals to open the Outer Continental Shelf to oil and gas production say they believe the General Assembly will pass the ban.
The bill by Sen. Chip Campsen of Charleston was approved 4-1 Wednesday by the environmental subcommittee of the Agriculture and Natural Resources Committee. It would prohibit the state from issuing permits for facilities used to explore for, develop or produce offshore oil and gas.
A similar measure was approved last year as a proviso to the state budget. It passed 40-4 in the Senate, but was only good for one year.
Campsen said offshore oil and gas is a threat to the state's tourism and real estate industries that are "the cornerstone of our economy."
While the Gulf states decided decades ago to develop oil and gas, South Carolina opted to preserve large sections of its coast. "This is an effort to preserve and protect that decision," Campsen said.
The subcommittee hearing, chaired by Sen. Stephen Goldfinch of Murrells Inlet, drew eight speakers, including Gabriella Martin, a freshman at Waccamaw High.
"As many of you have probably seen, young people are seeing increased pressures of suicide and depression, and this really hit home to me," she told the senators. "Having the ocean as a place of refuge is important to me and all young people."
"Your place of refuge is also my place of refuge," Goldfinch told Martin.
She also said renewable energy will offer more opportunities for jobs for young people. "We don't want fossilized jobs and power," Martin said.
Other speakers supporting the bill included the mayors of Isle of Palms, Sullivans Island and Folly Beach.
Mark Harmon, executive director of the S.C. Petroleum Council, was the only speaker opposed to the bill. He said drilling would create and estimated 34,000 jobs. "There are tangible benefits to the state," Harmon said.
Goldfinch asked where any infrastructure would be located.
Harmon said he wasn't aware of specific plans, but said "there are areas surrounding the port area" in Jasper County.
Goldfinch, who has spoken in favor of the economic benefits in the past, said he is "evolving on the issue" after talks with Campsen.
Sen. Dwight Loftis of Greenville cast the lone dissenting vote. "I love our beaches," he said, but he didn't want to shut out the industry if it can be regulated or if technology changes.
"I know I get painted as the bad guy, but I think we should have an open mind," he said.