Band marches with confidence toward Lower State competition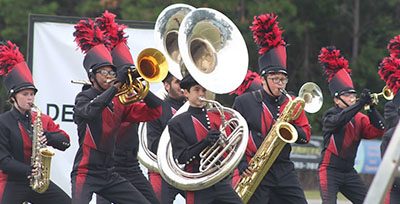 The band previewed its Lower State show for family and friends last week.
The Waccamaw High marching band heads to the Lower State competition Saturday at White Knoll High School in Lexington. Last year, the band placed sixth and earned a chance to compete in the state final.
The band has won their first two competitions, picking up eight trophies. The band has some pep in their step, and it's evident on the field.
"From the first competition up until now, the kids have gained a new level of confidence as we've gone through the competitions," said Kadeem Sabari, who is in his first year as band director. "I've seen a new level of confidence from the kids. They're moving better, they're playing better and they're overall happier."
Band members said the director's enthusiasm is contagious.
"That's brought a better attitude towards marching band everyday and made it more fun," said Luke Kibler, an eighth-grader who plays the sousaphone.
"He puts a lot of emphasis on music, which I like. There are no wasted practices," Zachary Rosenberg, a senior percussionist, said of Sabari. "We're making the most of [our time] and it's working."
The band is always fine-tuning pieces of their show like solos, positioning and choreography. They performed for friends and family last Saturday, pulling together the elements that will be on display at Lower State.
"The kids handled change really well. That's always something I tell them is that we can change anything at any moment, especially going into bigger competitions," Sabari said.
Kibler, a first-year band member, said being prepared helps calm nerves going into the competitions. "I haven't been super nervous because I knew what we were set out to do, and I could only do the best I can," he said.
"Oh my God, I've loved this year better than years past,"
Rosenberg has found more efficiency and drive in this year's band. "It was much more easy going in years past," he said.
Rachael Foy, a junior in the color guard, called the performances this year "amazing." Lisa Arnold is the choreographer this year, and Foy said she has helped instill calm even when things get busy.
"It's been good so far. It's a lot better," Foy said.
Rosenberg is confident the band will advance to the state championship. Foy said the band is confident, but not taking anything for granted.
"We could make it to state, we could not, but what I always tell the kids is that this could be the last one so you need to play it like your last because you never know what could happen," Sabari said.
And another thing he tells the band: "We may be small, but that does not mean we are weak and we are powerless. You just have to show what you can do."