Band's halftime show delivers timely message to kids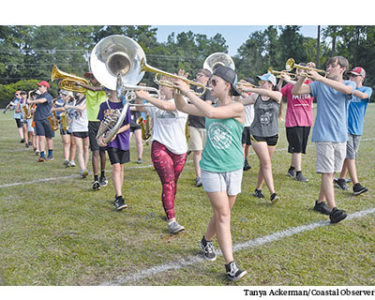 The marching band runs through its program during band camp last week.
People watching the Waccamaw High School marching band's show this year will get a lesson in acceptance.
"True Colors" is the story of a young girl who has been rejected by the other members of the band. Slowly, as the performance continues, they accept her.
The moral of the story is that people can be themselves, said Nancy Randall, co-director of the marching band.
"It is OK for people to disagree and it is OK for people not to be the same," Randall said. "Treat everyone with kindness."
Randall said the show speaks to the Waccamaw High community that is still trying to recover from the suicides of two students last spring.
"Kids need to be listened to, they need to be able to talk," Randall said. She is also the band director at Waccamaw Middle. "It's not just for Waccamaw High School, it's for kids everywhere, nationwide. We feel like it needs to be out there, and people need to pay attention to these teenagers. They have so much pressure."
Ace Potwin, the band's drum major, is emotionally attached to the show.
"It's one of those things that's really eye-opening. It's one of those things that's really cool to see put on in front of hundreds of people," he said. "It's definitely one of those things that I really hope people sit down and listen to and watch and really take away from it. Just to know that people do know and they do care, they care about what's happening."
The band uses four movements to tell the story about the girl who has been rejected. Wearing a bright yellow dress, the girl dances around the band members, who are wearing red and black, and the color guard members, who are carrying gray flags.
Throughout the performance, more colors appear as the girl is slowly accepted.
"The kids are eating it up, they love the concept," said Kadeem Sabari, the new Waccamaw High band director. "It's been a lot of fun because it's a show that everybody buys into."
Sabari comes to Waccamaw after teaching for two years at South Aiken High School.
"It's a lot of great music [and] a really good theme," said Covey Loftus, a senior and the leader of the percussion section. "I think we're going to have a lot of fun with it."
The marching band wrapped up its annual camp last Friday with a performance for family and friends.
"It's probably more progress than we've made in the previous years in the first two weeks," Loftus said. "I'm very proud of my section."
"I've never had a camp go so smoothly," Potwin said. "We feel like a family. We spend so much time together, if you didn't feel like a family it would be weird and awkward."
Potwin played clarinet for six years at Waccamaw middle and high schools.
"I always thought it would be super cool to be able to direct an entire band," he said, adding that the biggest challenge is getting everybody on the same page.
Jameson Baldwin, the rookie section leader, saw a lot of improvement in the band's new members and veterans during camp.
"I see amazing potential and great work ethic in the rookies," said Baldwin, a sophomore. "I see amazing people that enjoy each other's company in doing what all of us love: playing music."
Randall said this year's show is not specifically about the LGBTQ community or depression, but they are a part of it.
"We are very, very proud to be putting this on," she added. "We're always a safe place, we're always a place where … we want you to express your feelings through music. It's an outlet for them. Most of my kids say they look forward to [music class] the most."
The band is supporting R.I.S.E. Out of the Darkness, which will hold a 12-hour mental health awareness walk at the school Sept. 14.
"We want to be part of that movement," Randall said.
Joshua Ford contributed to this article.