Barriers buy time for Highway 17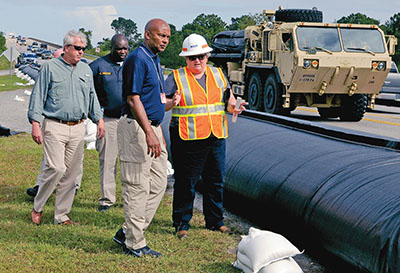 Christy Hall, right, explains the barrier system to Georgetown Mayor Brendon Barber and state Rep. Lee Hewitt.
A water-filled flexible barrier is in place between the Waccamaw and Pee Dee rivers to hold back rising waters that are expected to cover Highway 17 this week. It won't be enough to keep the road open, according to the head of the state Department of Transportation.
"Worst case scenario, this buys us some time," Transportation Secretary Christy Hall told officials this week after the first 1,000 feet of barrier was completed between the bridges that cross the two rivers between the Waccamaw Neck and Georgetown.
Another 4,000 feet will be installed along the highway on the Waccamaw Neck side of the bridges.
Although the bridges don't close in a hurricane, as some believe, the flood is "an unprecedented event," Hall said. The volume and speed of the water, and their impact on the bridges, "is actually the controlling element with regards to when we're going to close the road."
Leland Colvin, the agency's deputy secretary for engineering, said only the end of the bridges closest to Georgetown is expected to flood. A bridge team is stationed in Georgetown to monitor the structures. "We understand what it would actually take to damage the bridge," he said. "Scour's always an issue. We will not reopen a bridge until we've gone and checked to make sure it's completely safe."
The bridge over the Pee Dee River on Highway 701 between Georgetown and Conway is also expected to close. DOT is also erecting a flood barrier on Highway 521 west of Georgetown. Water from the Sampit backing up in Ports Creek is threatening the road.
DOT is uncertain how long Highway 17 will remain closed. "It could potentially be for several, several days before the water starts to recede," Hall said. Then the road will be inspected. "This is likely to be an extended event for the region."