Beaches still open, but gatherings face crackdown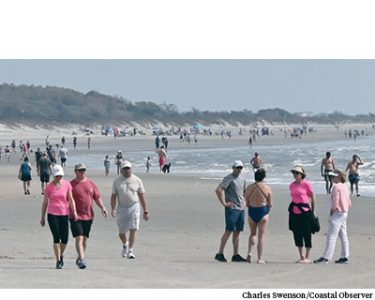 People filled the beach at North Litchfield last weekend.
As the state was imposing new limits last week on public gatherings, the beach at Pawleys Island was filling up.
"It was like a busy Saturday in July," Police Chief Mike Fanning said. "Who knew we were going to have a heat wave in the middle of March and the schools would be closed."
Cold and rainy weather this week helped with crowd control, but the weekend forecast calls for clear skies and highs in the upper 70s.
Gov. Henry McMaster emphasized this week that his executive order gives law enforcement the authority to limit gatherings to no more than two people. "This would apply to parties on the beach," he said at a press conference, but not in homes or businesses. "It requires discretion. It requires common sense."
Pawleys Island Town Council met Saturday in the gazebo at the island's Nature Park to adopt an emergency resolution that will allow it to operate while Town Hall is closed and conduct meetings online. The council members said they did not want to restrict access to the beach.
"I've gotten some phone calls and communication from people that are concerned about the amount of folks that are going on the beach," Mayor Brian Henry said. Some wanted the town to close the beach. One "was frustrated because he felt we have not acted yet."
Groups of 10 to 12 high school and college kids, gathered north of Pawleys Pier, Fanning said. The south end parking lot, the county's largest free public beach access, has been closed since October for use as a staging area for a beach renourishment project.
"I'm trying to look at this pragmatically and from a common-sense standpoint," Fanning said. "If you're in a family and you're renting a beach house, one, you've already exposed to one another under one roof, and I'm not going to tell you to separate as long as you're on the beach and not exposing to other people. And, if you do not obey this there may be a chance that we have to close the beach, and nobody wants that."
"We don't have the ability to close the beach," Fanning added. "We can limit access to it."
The state law gives officers the authority to cite people for violations.
"The last thing we want to do is start issuing summonses," Fanning said. "I don't anticipate anybody giving us a hard time about this."
The Georgetown County Sheriff's Office had patrols on the beach over the weekend to tell people to keep their distance. Those will continue this weekend from DeBordieu to Garden City, Sheriff Carter Weaver said. There will also be patrols along the waterways and the Marshwalk in Murrells Inlet.
"The order has been issued and GCSO will enforce it," Weaver said. "We all have to work together in order to stop the spread."
The contractor for the town's renourishment project is due to move out of the south end lot today. Georgetown County, which owns the property, will grade the lot and replace the timbers that mark the parking spaces. Those were destroyed by Hurricane Dorian in September.
The county plans to reopen the lot as soon as possible, said Beth Goodale, the Parks and Recreation director. Although most of its facilities are closed, "we're not closing parking lots and stuff like that," she said.