Beard will file appeal of election board ruling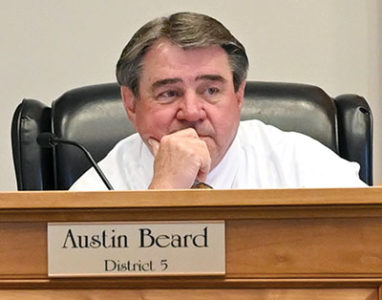 Austin Beard has appealed a county elections board decision on his voter registration.
Council Member Austin Beard will appeal the decision of the Georgetown County election commission that he is not a registered voter in the district he represents.
"It leaves some options open. Hopefully, I can get information and make an informed decision," Beard said.
A notice of appeal submitted to the county Board of Voter Registration and Elections this week triggered the board to call a special meeting for today to hire an attorney and determine how to proceed.
Following a hearing on March 15, the board voted unanimously that the address on Beard's voter registration card is not his legal residence. Beard, who represents Council District 5, testified that he had never lived at the address, 510 N. Magnolia Ave. in Andrews, although he paid a one-time fee of $150 to lease the house in 2016.
Beard said health issues that began two years earlier led to him living in Georgetown at the home of his second wife. They were married last year.
The local chapter of the NAACP filed the challenge to Beard's residency in January as Beard was poised to take the position as council chairman from Johnny Morant, who had retired. Beard pulled out and John Thomas, who represents Council District 1, was elected chairman.
The ruling by the county elections board did not remove Beard from office. State law allows the legislature and municipalities to rule on their members' eligibility to serve, but does not allow county councils to do so, Chris Whitmire, spokesman for the state Election Commission said. "As far as him being an officeholder, that's clearly not an election issue," he added.
Marvin Neal, president of the local NAACP chapter, said the group is willing to go to court to have Beard removed. "You have been given notice," he told the council during public comment at this week's meeting.
Half a dozen deputies attended the meeting, a response to a rumor that there might be a disturbance, Thomas said. There was none, although four speakers, including Neal questioned why Beard is still on the council.
Afterward, Neal said the group continues to work with its attorney, Thomas Tisdale, but declined to say what it would do. "The element of surprise is important," Neal said.
Beard had 10 days to file notice of his appeal. He said he has not settled on a final course of action. He is also talking with his attorney, David Watson.
"I'm hoping for the best outcome for all parties: for me, my family, for council, for Georgetown County," Beard said. "I have no real desire to drag this out."
Donna Mahn, the county elections director, said she was told her board will have to send the notice of appeal to Circuit Court. The board needs an attorney to explain the process, she added.
Under the law, the court will review the question of Beard's registration anew, not just the board's decision.