Behind the mask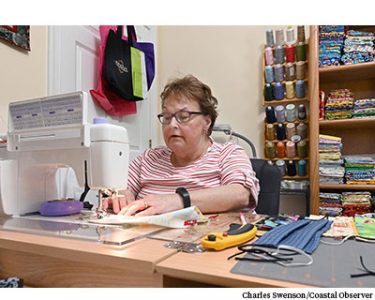 Karen Fedor sews face masks from quilt fabric at her home in Heritage Plantation.
Whether it's for individuals in need or health care workers, Waccamaw Neck residents are producing masks to help slow the spread of the coronavirus.
Karen Fedor of Heritage Plantation has made more than 100 masks for friends, neighbors and acquaintances who work at hospitals in Chicago and Maryland.
Fedor spends six to eight hours a day working on masks.
"I just sew, sew, sew. It's a full-time job," Fedor said. "I figured I've been this God-given gift to sew."
She has heard from people with pre-existing conditions like cancer who are desperate for masks.
"They're just scared," said Fedor, who is also a cancer survivor.
Fedor is a retired special education teacher. She now has a quilting business, As the Hummingbird Flies, that provides her plenty of fabric for masks. However, she has struggled to find elastic and fears when her supply runs out she'll have to stop making masks.
The most important person Fedor has sewn for is her son, who works for an IT subcontractor at Tidelands Health.
"I talk to him every night," Fedor said. "You can just hear the stress in his voice."
After buying him five N95 masks, she made covers for the masks to give him an extra layer of protection.
Gail Joley of Willbrook Plantation, a watercolorist, put down her brushes for a few days to join more than 2,000 others in sewing new elastic straps for N95 respirators for Tidelands Health.
"I think it's a national crisis and everybody wants to do something," said Joley, who used to sew when she was younger.
"We are so grateful for this outpouring of support by our community," said Pam Maxwell, chief nursing officer at Tidelands Health. "We are truly blessed."
The first thing Joley had to do was borrow a sewing machine. The second thing was figuring out how to thread the machine. She found a YouTube video and was on her way.
"I like the challenge of problem solving," she said.
Tidelands gave Joley 70 masks and each one took about 10 minutes to complete. She finished them all two days later.
"It's been a fun experience," she said.
Fedor and Joley have been inspired to continue making masks.
"I'm trying to prioritize how I'm handing them out," Fedor said. "I want the people who need them the most to have them."