Belin builders find needs close to home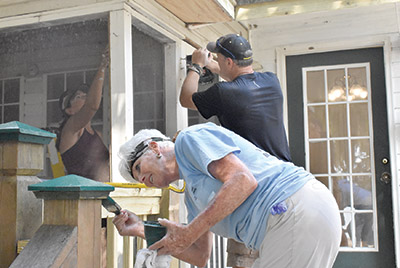 Members of the Belin Builds team at work on the Pyatt family's home on Sandy Island.
Sarah Deas desperately needed a new roof on her Sandy Island house, but she couldn't afford it.
Whenever people would ask her about it she would tell them "God is going to give me a roof."
Deas got her new roof last week, and she believes it's because God sent a group of people from Belin Memorial United Methodist Church to help her.
"I always believe in what my man upstairs says: be patient and wait on me," Deas said. "God is good and God is a provider."
The 35 parishioners, including more than a dozen high school students, were members of Belin Builds, a new mission group at the church.
Brandy Streett, the church's director of missions and outreach, said many of the teenagers had been to Sandy Island's beach, but had no idea what was on the rest of the island.
"It's been really cool to do something that's local, but not right in your backyard," Streett said. "The community is great."
This was the first mission project for Morgan Brennan, a rising ninth-grader at St. James High School who is finally old enough to participate.
"I really like helping people and seeing how it impacts their life and impacts my life," Brennan said. "It changed my entire perspective on so many things."
The group got a boost of supplies and labor from Poulin Custom Builders in Murrells Inlet and Spann Roofing and Sheet Metal in Conway. The owners of both companies are members of the church.
Deas' family has lived on Sandy Island for generations. The house she lives in belonged to her grandmother. Along with a new roof, the Belin parishioners also made repairs inside of the house and to the screened porch on the back.
"It's been an emotional week, but it's been amazing," said Streett's daughter, Coker, a rising 10th-grader at Lowcountry Prep School. "I've always loved helping people and mission work. I want to do that when I'm older, either youth ministry or some type of ministry. All of this just spiritually empowers me."
Deas cooked lunch for the volunteers every day and missed them when they left. She said it was "inspirational" to see the kids doing mission work.
"It just shows me what the young people are capable of if they have that desire to follow in Jesus' footsteps," Deas said. "It's a great blessing."
Streett said all the island residents were "sweet" and helpful.
"They're all so kind and welcoming," Brennan said. "They listen to you and they develop relationships with you that you just have to keep. If you don't you're never going to find anything like that again."
Whitney Anne Lewis, a teacher at St. James Middle School, enjoyed working alongside kids she's known since they were in diapers.
"I get to watch them work and see them develop physically, mentally, emotionally and especially spiritually," Lewis said. "My biggest thing is the hope I feel in our youth. They give us hope for our future and to be the hands and feet of Christ."
Deas' house was one of three on the island that got repaired last week.
Desmond Pyatt was thrilled to have a new porch and remodeled bedroom and living room. He even helped with some of the work.
"They've done such a wonderful job," Pyatt said. "Everything that they can do, they're doing, and more."
On Friday, all the volunteers gathered for lunch and listened as residents told stories about the history of the island.
"What the kids have received is that forever, they are welcome here," Lewis said. "We are part of their family now."
The church's youth have always been involved with Salkehatchie, the United Methodist Church's summer home repair mission program. But Salkehatchie sends volunteers away from the area where they live.
Streett said keeping the kids local was the genesis of Belin Builds.
In the past the church has housed Salkehatchie youth from across the state to work on home repairs in the Waccamaw Neck area. But those trips were canceled last year and this year because of the COVID-19 pandemic.
Streett said because of the number of volunteers in a typical Salkehatchie group, coordinators could never figure out how to transport them all over to Sandy Island.