Belin Methodist's longest-serving pastor has seen flock double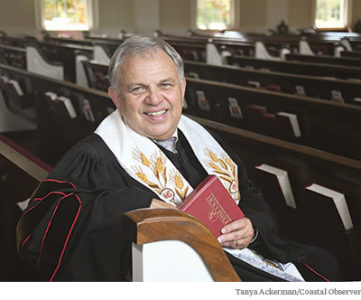 The Rev. Mike Alexander.
You'll have to excuse the members of Belin Memorial United Methodist Church if they've been a little tearful this week. The parishioners are saying goodbye to the Rev. Mike Alexander, the pastor who has led them for the past 14 years.
"This has been an incredible place, I love this church," Alexander said. "It has been 14 years full of constant activity. … There are so many demands, so many people who just have needs. I wish I could fix everybody. You can't. But I can tell them that God loves them. That's what I've tried to do."
Alexander's first worship service at Belin was June 19, 2005. His last will be Sunday. That is the longest tenure of any of the church's 22 pastors.
More than 1,500 people have joined Belin since Alexander took over, although not all of them have stayed. It is the 18th fastest growing United Methodist church in the United States.
"The growth has been exponential, and I'm grateful for that," Alexander said. "When I first came here it was incredible for me to preach to 600 to 700 people on a Sunday. Now we preach to anywhere from 1,300 to 1,400 on a Sunday."
In 2012, Belin started a monthly contemporary worship service, although Alexander did not like to call it that.
"I was the one who said we're not going to call it contemporary," Alexander said. "All worship should be contemporary, whether it's traditional or modern. I'm very proud of what we've done."
The service was so successful it was renamed "The Harbor" and now takes place at the same time as the two traditional services on Sunday.
With its congregation growing, Belin plans to expand its campus. The sanctuary will be widened, to add more seating, and lengthened, to add more room for the 85-member choir. A large building with offices, a children's wing and worship space is also planned for the fenced-in lot that now accommodates overflow parking and hosts the church's annual Mud Bowl.
"We've just outgrown everything," Alexander said. "That's the hardest thing. … We don't have anything that's adequate in terms of space."
The plans include moving the driveway that leads from the public boat landing to the public parking lot to unite all the church property on the west side of Business 17.
"We've got a vision that's going to transform this entire campus," Alexander said. "This is a God-sized dream and I think we're being called to do something God-sized."
Alexander attributes Belin's growth to church members being "radically hospitable."
"When people come here they just feel the warmth and the friendship," Alexander said.
June 16 is the 43rd anniversary of Alexander's first posting as pastor of Bellinger Chapel UMC in Fairfax, Brunson UMC in Brunson and Cave UMC in Kline, towns near Allendale.
"I have a deep love for Jesus, I have a deep love for the Bible, I have a deep love for people," Alexander said. "John Wesley, the founder of Methodism, said the world is my parish and really, the truth is, I've never looked to see [if] you're my church member then I'll help you. I try to be open, as Wesley would, to everybody who has a need."
Alexander believes the world is facing "challenging" times.
"I think in the days and years ahead, the church is going to play a bigger role in our lives than ever before because this is a crazy world in which we live," Alexander said.
Sunday will be the last time Alexander and his wife, Betsy, attend a service at Belin for awhile. Alexander said they are looking forward to checking out the services at other Methodist churches in the area while Belin's new pastor, the Rev. Will Malambri, gets settled in. Malambri will be installed on July 14.
"He'll be wonderful," Alexander said. "He's smart, he is a person who will provide excellent sermons and he's an excellent caregiver."
Sometime in the near future Alexander will join Belin's pastoral cabinet.
"Churches struggle with change," Alexander said. "This church will say 'how in the world are they going to survive without me?' But they'll survive."
Alexander is 68, four years away from the Methodist church's mandatory retirement age. But he's ready to spend more time with his family.
The Alexanders have no plans to leave the area. Their daughter and son-in-law, Abby and Rob, are moving to Murrells Inlet with their daughters Madison and Mallory. The Alexanders also have a son and daughter-in-law, Chad and Maria, who live in Columbia with their two daughters, Bryn and Sterling.
"I didn't have grandparents that I was around all the time," Alexander said. "I really want to do that."
The Alexanders have been leading trips to the Holy Land with Friends Tours & Travel for more than a decade. Now with him retiring, they are expanding their schedule. Alexander calls it a "passion."
More than 500 Belin members have traveled with them.
"I think that's part of the transformation that's happened around here because people have been on-site over there," Alexander said. "Betsy [said] 'you read the Bible in black and white but if you go over there you see it in high definition. It's in color.'"
As his final days at Belin were upon him and he was cleaning out his office, Alexander's emotions were "raw."
"I came here in 2005 and I started burying church members," Alexander said. "I don't bury church members anymore, I bury friends. That's painful. Because I have stayed a long time I've gotten involved in people's lives."
One day Mike and Betsy will be among their friends for eternity. They already have a plot in the church cemetery.
When the day comes when a tombstone is placed there, all Alexander wants on it is his name, Betsy's name, and the words: "I'm thankful."
"People have been kind," Alexander said. "I probably am not the best preacher that they've ever had, but they know they have never had a person with as big a heart. Because I do love them. And I'm grateful."