Bill Chandler, 87, fought to preserve Murrells Inlet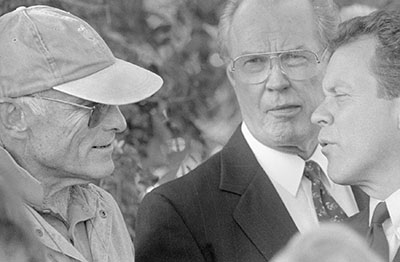 Bill Chandler, left, explains his opposition to casino boats to Gov. David Beasley, right, at a rally in Murrells Inlet in 1998.
Bill Chandler helped put a man on the moon, but he never let his vision stray far from the oaks and marsh at Murrells Inlet that shaped his own voyage.
"My interest is to keep Murrells Inlet a vibrant, active, healthy community, and I think that appeals to most everybody involved in it. They want it to be prosperous, but they don't want to see it destroyed," he once said. "We know development is going to occur. We're for it, but we want development that enhances the image of Murrells Inlet rather than damages it."
Chandler led the effort to create the Marsh Walk, advocated for rules to restrict tree cutting and improve water quality, and fought an effort to bring casino boats to the waterfront.
"He cared. He cared a lot," said Jerry Oakley, who represented the area on Georgetown County Council. "And he worked."
Chandler died March 14 at his home on the creekfront, property that had once been owned by his grandfather. He was 87.
He was the youngest and last surviving child of a family that first settled in Murrells Inlet in the early 20th century. The oldest sister, June Hora, died Feb. 24 at 95.
"Bill Chandler represented the best of Murrells Inlet; a place that no one loved more, or cared for with more passion and wisdom," said Chip Smith, who served with him on the board of the community revitalization group now known as Murrells Inlet 2020.
Chandler received the organization's Golden Oyster Award for environmental stewardship in 2017. Smith recalled at the time when he first saw Chandler on a boat in the creek: head shaved, skin tanned to a nut brown and grinning his unforgettable grin. "There's your Murrells Inlet, right there," Smith thought to himself.
William A. Chandler was born May 5, 1933, at Wachesaw Plantation, which his grandfather had sold three years earlier. His father, Thomas Mobley Chandler, was a farmer. His mother, Genevieve Willcox Chandler, was a teacher, a writer for the Works Progress Administration and a curator at Brookgreen Gardens. Bill was 3 when his father died and the family moved to his grandfather's home at The Hermitage.
"We were barefoot in the creek all the time," Chandler said in a 2000 interview. He recalled that he and one of his brothers "used to take our guns on the school bus when we were going to school at Myrtle Beach, and we'd get off between Surfside and here and hunt on the way home. We'd walk to the Waccamaw River and not see a soul or a house. We ate oysters the year-round, shellfish the year-round."
He added, "It was a great place to grow up in."
It was at Myrtle Beach High that he met his future wife, Anne, who survives him. He graduated from the University of South Carolina with a degree in mechanical engineering. He went to work for NASA in the late 1950s.
Chandler helped develop the systems that provided oxygen and the fuel cells that powered the Apollo XI lunar module. He was monitoring them at Mission Control in Houston during the moon landing in July 1969. "It was a tremendously emotional event," he recalled on the 40th anniversary. "It was stressful for everybody just because you know things had to go right."
One of Chandler's brothers, Joe, who was known as Corky, also worked for NASA and designed scientific equipment for the lunar mission. Corky Chandler died in September.
After the space shuttle Challenger exploded on liftoff in 1984, he managed about 3,000 NASA and Rockwell International employees designing a new $200 million shuttle crew escape system.
He left NASA in 1989, to become chief engineer for re-entry mechanical systems with Lockheed at Cape Canaveral.
During his years in Houston, Chandler and his family would return to Murrells Inlet once or twice a year. After moving to Florida, the trips became more frequent. In 1988, the Chandlers bought their future retirement home in the Sunnyside neighborhood from the family of Julia Peterkin, the Pulizter Prize-winning author. Bill's sister, Genevieve "Sister" Peterkin, had been married to Julia Peterkin's son, Bill.
Sister Peterkin, an environmentalist and historian, died in 2011. Another brother, Tommy, who was a fisherman and restaurant owner, died in 1994.
"When I returned from the Cape, I was concerned about what was happening here," Chandler said in a 1998 interview.
There were three groups active in the community, representing property owners, restaurants and preservationists. Chandler himself had created Preserve Murrells Inlet in 1995. Water quality in the inlet was threatened and the restaurants were struggling. Dozens of residents started meeting in 1997 to develop a common vision. That led to the formation of Murrells Inlet 2007. Chandler was its first chairman.
"He saw the need for people to pull together in one direction," said Tom Swatzel, who represented the area on County Council at the time.
Among its goals were preservation of the creek and the image of a fishing village, bike lanes and a marshfront boardwalk.
Although Chandler realized that Murrells Inlet had changed, he wanted to preserve "a little bit of that feel" that it had when he was growing up, said Chip Chandler, the oldest of his three sons. "He wanted to keep it amenable to business, but also quaint."
Within a year, work had begun on the Marsh Walk. Oakley and Swatzel said it was Chandler who helped make that possible by helping get easements from the restaurant owners.
"It couldn't have happened without his leadership," Swatzel said. "It was wildly successful beyond anyone's imagination."
Bike lanes followed. The county bought land at Morse Landing for a park.
"At a time in his life when he could have just enjoyed his and Anne's creekfront house, operated his shellfish leases with Franklin 'Snakeman' Smalls, and spent his retirement fishing, he became a true leader of his community – a heroic figure, really – and worked tirelessly for the betterment of creek and community," Smith said. "And still got a lot of fishing in."
The group also got the state to create a Special Area Management Plan for the inlet watershed.
"He was very concerned and focused on making sure the water quality in Murrells Inlet and the Waccamaw stayed high," Chip Chandler said. "He wanted to be able to fish and get shellfish from Murrells Inlet forever."
Not all of Chandler's efforts were successful. He tried for years to have the inlet designated a bird sanctuary. He couldn't get the backing of local legislators.
At a 2017 meeting, opponents put fliers on the chairs at the Murrells Inlet Community Center warning that the idea of a bird sanctuary in the estuary came from retirees with "a foreign value system."
"If it says I came from outside, I don't know what it takes to be inside," Chandler, told a standing-room-only crowd, many dressed in hunting garb like he was.
Chandler was a champion shooter and raised a yellow Labrador retriever, Waccamaw Tinker, who was a Gulf Coast champion. He argued that the decline in waterfowl had led to indiscriminate shooting of marsh and shore birds, he refused to call it hunting.
While he was disappointed that the effort failed, he said afterward that his biggest regret was that he wasn't younger, so he could continue the fight.
"If there was a positive individual, it was Dad," Chip Chandler said. "He was always looking on the bright side."