Bill would allow one-time fees on newcomers' cars and licenses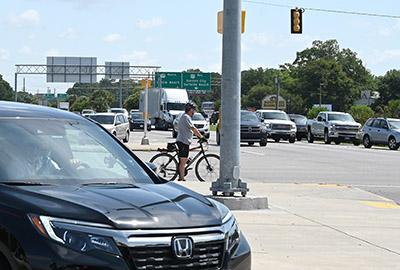 Funds could be used for roads, schools and green space.
Spending $450 million on a new highway doesn't make sense if the existing roads can't handle the increased traffic it will bring, said Becky Ryon, North Coast director of the Coastal Conservation.
The members of the intergovernmental Grand Strand Area Transportation Study Policy Committee have heard that before as they plan for the project known as the Southern Evacuation Lifeline, a road that will cross the Waccamaw River in Horry County to link Highways 17 and 701.
The state Department of Transportation is currently conducting preliminary environmental studies to determine whether it is worth funding a federal Environmental Impact Study.
Residents in rural Horry County have concerns about traffic and flooding. "The Waccamaw Neck is also very concerned about congestion on Highway 17," Ryon said.
"I agree with a lot of what you said," said state Sen. Stephen Goldfinch, who chairs the policy committee.
He has introduced a bill that will help counties fund road improvements to keep pace with growth. It will also provide money to preserve greenspace and expand schools through a one-time fee of $250 on drivers licenses and vehicle registrations for people who move to South Carolina.
"New folks who are coming here clogging our roads, filling our schools, should be paying for it," Goldfinch said.
The bill received a favorable report last week from the Senate Finance Property Tax Subcommittee. It has the support of the S.C. Association of Counties.
"I suspect it will pass, but I don't have a crystal ball," Goldfinch said.
The bill would allow counties to hold a referendum to impose the fees on drivers licenses and registrations of new residents. The referendum could be called by a county council or by a petition from at least 5 percent of the registered voters. It can be held during any November election, unlike sales tax referendums, which have to be held during the general elections that fall every two years.
The referendum ballot has to specify percentage of the tax allocated to infrastructure, public education and greenspace conservation or preservation. There are separate questions for licenses and registration fees.
The fees can be rescinded through a referendum, though it can only be held once every five years.
"I've been working on it for years," Goldfinch said. "I started trying to figure out how to do it via property taxes. The problem I kept running into was Act 388."
The act limits the ability of local governments to raise taxes to the combination of the federal Consumer Price Index and local population growth. While Goldfinch thinks that law needs reform, "I would like to address this part of the issue right now," he said.
Raising revenue is only half of the equation. The GSATS policy committee learned last week that a project it had fast-tracked in 2019 that would relieve a bottleneck at Tournament Boulevard and McDowell Shortcut in southern Horry County jumped from $5.1 million to $7.6 million in five months. Traffic turning onto Tournament often backs up onto Bypass 17.
The state Department of Transportation received only one bid on the project, said Stacey Johnson, the project manager.
"It had some tight construction deadlines that we've revised," he said. "I hope we receive more favorable bids."
It will be rebid in April.
"We don't need to back up," Goldfinch said.