Board invalidates voter registration of candidate for Georgetown mayor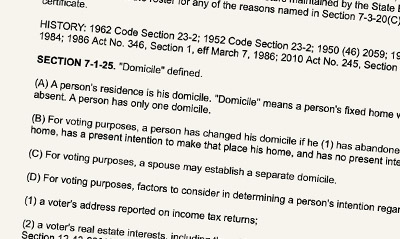 State law on residency for voting focuses on a person's intent.
A third-party candidate for mayor of Georgetown was disqualified to vote last week by the Georgetown County Board of Voter Registration and Elections. It was a pattern of changes that coincided with elections that concerned the board's chairman.
"You don't want people playing games with the system," said James Sanderson.
Jason Collins is running as the Independence Party candidate to unseat incumbent Democrat Brendon Barber. Carol Jayroe, a City Council member, is running as a Republican.
Collins changed his address in February to 622 Washington St., the former American Legion post where he operates a one-chair barbershop. He told the election board that he planned to run for mayor because he was told Barber didn't plan to seek a second term.
"I'm not trying to break no laws or rules," he said. "This is not the first time I've actually lived in the barbershop."
According to voter registration records, it was the first time he declared the shop as his residence.
Voters swear an oath when they register that they are qualified and that they claim no other legal residence. State law defines a residence or domicile as a place where a person has an intent to return when absent. The law includes several ways that may be used to measure that intent, such as mailing address, driver's license and vehicle registration.
The local chapter of the NAACP successfully challenged the voter registration of County Council Member Austin Beard in 2019. He admitted during a hearing that he had rented a house in District 5 in Andrews, but never lived in it due to health issues. He resigned rather than appeal the finding.
That same year, Brian Henry's registration was challenged when he ran to unseat incumbent Jimmy Braswell in the Pawleys Island mayor's race. Council Member Guerry Green's registration was also challenged. Both were upheld by the Board of Voter Registration and Elections.
Collins also ran for mayor as a Democrat in 2017, but lost in the primary. Georgetown is one of only six municipalities in the state that have partisan elections. Three are in Aiken County. The others are Florence and Greenville, according to the state Election Commission.
In 2017, Collins changed his address from his mother's home outside the city to an apartment in Georgetown. He changed it back the next year.
"You can't tell somebody where they can and can't live," Collins told the county board.
Sanderson agreed, but pointed out that someone who questions a person's registration is allowed due process. "If he wasn't allowed to do that, we certainly would be under a dictatorship," he said.
The challenge came from Donald Gilliard, who told the elections board that he is one of Collins' customers. "I know Jason. I go to his barbershop, so I know he doesn't live there," he said.
Gilliard gave the board copies of city ordinances that he said prohibit someone from living in a commercial building. "That's not a residence," he said.
Board member Billy Altman, who presided at the hearings for Beard and Henry in 2019, told Gilliard that the elections board can't enforce city codes. He pressed Gilliard on the basis for his claim.
"I'm not an attorney," Gilliard said.
"Neither am I. Let's have plain talk," Altman said.
State law only allows the board to rule on Collins' residence, he explained.
"So fraud doesn't matter?" Gilliard asked.
"If there's fraud in Mr. Collins' registration, then that's a different issue," Altman said. "All of us are interested in getting the answer to a simple question: Is Mr. Collins properly registered to vote."
To that end, board members quizzed Collins about where his mail is delivered, where his family lives and where he would return to if he took a trip.
The answer was the same: 622 Washington St.
Board member Phillip Brady asked to see Collins' driver's license.
"Six twenty-two Washington," Brady said.
During the questioning, Gilliard put his hand on his forehead and laughed to himself.
Collins told the board that the former legion post has about 6,500 square feet. He has sectioned off a portion for living quarters.
Sanderson asked if he owned the building. Collins said he rents it from "Mr. Bob."
"Mr. Bob who?" Sanderson asked.
Collins wasn't sure.
"You don't know who Mr. Bob is?" Altman asked.
Collins looked in his phone. "Bob Robert," he said.
"Robert Robert? That's his name?" Altman asked.
County tax records show that the property tax bill for the property is mailed to a management company in Charleston.
Board member Ron Byrd asked about the terms of Collins' lease.
Collins said he is renting with the option to buy. He has five bedrooms and a kitchen in the building in addition to the barbershop.
"We took an oath," Gilliard said, referring to their testimony. "Jason's my barber. That's perjury."
Collins said Gilliard is working for Barber and just trying to get him out of the race.
"The truth has to matter," Gilliard said. "This is above politics."
After 30 minutes of deliberation, the board voted 5-4 that Collins was improperly registered.
Altman, Brady, Byrd and Mary Joyce Holmes voted to uphold his registration.
Sanderson was joined in the majority by Linda Green and three board members who had phoned in to the hearing: Tracy Gibson, Jay Sherman and Jimmy Young.
Collins has until Monday to appeal the decision to Circuit Court. If he does not, the Independence Party could disqualify him.
If there is no appeal, the elections board can post notices at the polling places to let voters know about its decision.