Book chronicles couple's coast-to-coast golf odyssey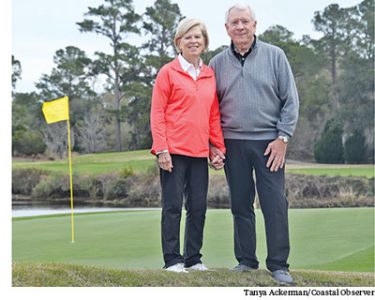 Marilyn and Mike Allen at Caledonia.
Thousands of golfers have dreamed about traveling around the United State and playing the best courses.
One couple actually did it.
Mike and Marilyn Allen, who split their time between Ohio and Litchfield By the Sea, played the 201 courses that Golf Digest included in it's bi-annual list of the top 100 courses in the country between 2003 and 2017.
The Allens document the first 194 courses of their adventure in Mike's new book, "From Tee to Shining Tee."
Marilyn said the book is about more than just the golf courses. It's about their experiences and the people they met along the way.
"What a ride, it was really special," Marilyn said. "And we came back as friends. That is amazing."
It all started at Christmas 2006 when Scott Allen gave his parents a board with all of Golf Digest's top 100 courses from 2005 on it. He pointed out that they had played some of the courses and suggested they travel to some of the others.
Since the Allens were both still working at the time, she as a nurse and he as a financial advisor, the quest started slowly with courses in Ohio, Michigan and South Carolina.
In 2009, Mike told Marilyn they should "take a vacation and start seeing the country."
The couple spent two weeks driving through North and South Dakota and playing 14 courses.
"We had so much fun on that [Dakotas] loop, we thought, let's go do another area of the country," Marilyn said.
For the next three years the couple took short trips.
By 2013, when Marilyn retired, Golf Digest had released four more lists, adding dozens of courses to the Allens' quest.
"We were losing more than we were gaining," Marilyn said.
The Allens took longer trips during the next four years, spending multiple weeks on the road every year. Their longest trip was 22 days playing 21 courses along the West Coast.
Marilyn said they spent a lot of time during that trip "running on adrenaline."
The Allens said the most challenging trip was to New York City to play Bethpage Black in Long Island and Trump Golf Links at Ferry Point in the Bronx.
At Bethpage Black, New York residents can book tee times seven days in advance. Everybody else has to wait until two days before. The course keeps a few spots open every morning for walk-ups, so people spend the night in their cars in the course's parking lot to try to get those. Marilyn wasn't really excited about the prospect of sleeping in the parking lot.
The plan was to drive from Ohio to New York on Sunday, play the Trump course on Monday and then try to get one of the Bethpage Black spots on Tuesday since the course was closed on Monday and Wednesday of that week.
As the trip neared, the weather report was 100 percent chance of rain and high winds on Tuesday. Mike said he really didn't want to play in that kind of weather.
On Saturday morning, he checked the Bethpage Black website and discovered a tee time for two on Sunday afternoon. So he booked it and then had to tell Marilyn they were leaving that afternoon instead of the next day.
"Four hours later we were on the road for New York," Mike said.
A few times the Allens played two courses in one day, usually at clubs that had two courses on the list or where the courses were not far apart. But it was not their preference.
"We enjoyed it a lot more if we just did one a day," Mike said.
Bandon Dunes in Oregon had four courses on the list, and Whistling Straits in Wisconsin had three so the Allens stayed near those courses for several days.
"We always looked forward to those situations," Mike said.
At the beginning of 2018 the couple realized they had fewer than 60 courses left to play.
"We're getting older, we need to do this while we can," Mike said. "We can get them all done this year."
The 194th course was Pasatiempo in Santa Cruz, Calif., on Nov. 13, 2018.
"It's great because we accomplished it, but it's kind of bittersweet," Marilyn said.
"It was really satisfying, but it was almost an empty feeling," Mike said.
Since finishing their quest, the Allens have not stopped golfing.
Their latest visit to Pawleys Island this month included lessons at the Steve Dresser Golf School and rounds at their local favorite courses, True Blue and Caledonia.
In January of 2019, Mike started writing his book. Marilyn read every word before it was published, as did a family friend who is a sports writer and author in Ohio.
"Just make it like you're talking to someone," Marilyn told Mike.
"I think by the time I got about halfway through the book I actually became a better writer," he said.
In May 2019, Golf Digest released another top 100 list, with 13 new courses, nine of which the Allens had already played. Three had been on older lists and six were courses that Mike had read about and anticipated would be on a future list, so they went ahead and played them.
Two of the new courses were in Michigan, so the Allens played them last summer.
The Allens missed a chance to play one of the courses that ended up on the new list. When they traveled to San Diego to play Tory Pines South, Mike didn't think the remodel of Tory Pines North would land it on the list. So they skipped it.
When the new list came out they rectified their mistake by visiting their grandson in San Diego and playing both Tory Pines courses.
There is now only one course the Allens haven't played: Wilderness Club Resort in Montana.
A trip is already planned for July.
"Then we'll be caught up again," Marilyn said.
You can purchase "From Tee to Shining Tee" in the pro shops at True Blue and Caledonia, on Mike's website, agolfersdream.com, which also has a blog about the courses, or from amazon.com.
All proceeds are donated to two military charities – the Special Operations Warrior Foundation and the Pat Tillman Foundation – in honor of Scott Allen, a member of Special Forces who started his parents on this journey.
"They're kind of close to our hearts," Mike said.