Boykin spaniels, the state's dog, have a fling at Murrells Inlet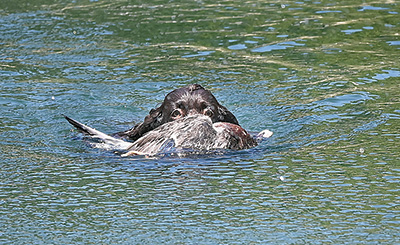 Rocky, a 10-month-old Boykin, retrieves a mallard.
Tiffany Carroll was shocked when she took her family's dog, Skai, to the vet.
"They didn't know it was the state dog," she said, shaking her head.
Skai, now 2, was one of a score of Boykin spaniels that gathered along with their owners at A Dog's Way Inn in Murrells Inlet over the weekend. It was the third annual Boykin Spring Fling, a benefit for Boykin Spaniel Rescue.
The Boykin was first bred in the town of the same name by a sportsman, who also shared the name. He was looking for a compact dog that would fit in the small boats used by hunters in the Wateree River area near Camden. That was in the early part of the 20th century.
It wasn't until 1985 that the Boykin became South Carolina's state dog by an act of the legislature.
"You'll find people who mistake them for cocker spaniels," said Dayle Grimsley, a Murrells Inlet resident who organized the fling. She has two Boykins. "We just wanted to get the word out there about these great dogs. I mean, they're our state dog, so people need to know."
Grimsley isn't a hunter, but she has entered her dogs, Cash, 4, and Laci, 8, in agility and dock diving competitions. A Dog's Way recently opened a dock diving facility that allows it to host those events along with the agility events it has hosted for many years.
"Boykins can do all that," Grimsley said. "They absolutely love dock diving."
Most of the spaniels at the fling found their way to the pond, chasing tennis balls or training dummies.
Johnny Ammons of Gallivants Ferry had his 3-1/2-year-old Boykin, Wally, retrieving mallards. They had been frozen and kept for a demonstration. Using a whistle and hand signals, Ammons guided Wally across the pond until he found the duck.
Ammons and Wally also compete in field trials. It's a first for both of them.
"I've wanted one for years," Ammons said of the Boykin. His last dog was a Yorkshire terrier. It didn't hunt. Wally helps hunt ducks, doves and quail.
Steve Edwards of Darlington brought 10-month-old Rocky to the fling to hone his retrieving skills. Rocky managed to find a mallard and swim the pond with the bird in its mouth. His daughter, O'Neill, lives in Murrells Inlet with her Boykins, Scout and Lady.
After having Boykins for over 20 years, Edwards went 17 years without one.
"I couldn't stand it any longer," he said. "These dogs are special."
That attitude and the growing popularity of Boykins raises questions about the need for a rescue organization.
"It's always kind of surprising when you first see it. Why would you ever need a rescue," said Cindy Allred, a Boykin Spaniel Rescue volunteer who lives in Awendaw. She is fostering J.J., a 9-year-old.
"He was found at a garbage dump, 8 pounds less that he is now," Allred said. "He had been through multiple people and ran off."
The rescue group is a national organization. It takes in between 75 and 80 Boykins a year. Some owners aren't able to care for the dogs. Some dogs have allergies or illnesses. Some are abused.
"We will occasionally get one in a shelter, but that's not the norm," Allred said.
Margaret Wienges, an artist in Columbia, is a former board member of the organization. She was at the fling with Brice and Buddy, who are both 12. Buddy was left at a shelter in Camden six years ago along with his papers.
"He wasn't well socialized," Wienges said.
Many of the Boykins at the fling appeared in pairs. "I always have two," Allred said. But not everyone came with a dog.
Holly Temple, who lives in Litchfield Country Club, discovered the Boykin spaniel at the Southeastern Wildlife Exposition in Charleston. "I just fell in love," she said. "I have dreamed of having one of these dogs."
She was checking out the facility and the breed.
"People love the size. They love the temperament," said Allred, who also does adoption applications for the rescue group. "Boykins are just always friendly. It's very unusual that you run across one with any aggression. They're just so family-oriented."
Jess Epley of Murrells Inlet grew up with Boykins. She now has one of her own. She was pleased that her 18-week-old puppy, Finn, was able to finish his series of shots in time for the fling.
"They're the best dog," she said.
They're also the state dog.