Bringing the hills alive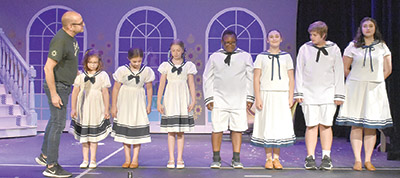 Ronnie Hunter checks the von Trapp children's alignment at a rehearsal.
When Ronnie Hunter studied set design in college, he wanted to stage "The Sound of Music." His professors told him he wasn't talented enough.
Now 50, Hunter's production of the Rogers and Hammerstein musical opens this week at the Strand Theater in Georgetown.
"I relate much more to it now, and I'm glad I'm doing it at 50. If I had done it when I was 20, it would have been a very flat, a one-dimensional show," Hunter said. "This is going to have so many parts played into it … your senses are going to be overloaded. I'm hoping the way I cast it and the way I blocked it, you are just enveloped by 'The Sound of Music' through the whole show."
Hunter said he started to think about staging the show during a stint in rehab last year. Singing the songs from the show helped him survive.
"While I was walking around the lake at the treatment center, mad and frustrated and trying to figure out how I could do better in my life, I kept singing 'Climb Every Mountain,' and 'My Favorite Things,' 'The Sound of Music' and 'Sixteen Going on Seventeen,' " Hunter said. "That's what got me through a very dark part of my life."
After he was released, Hunter decided it would be his next show and pitched it to the board of the Swamp Fox Players.
"That is when I decided I wanted this show to be done, and I gave it my life and my heart and my soul," he said.
Hunter started planning by watching videos of other productions, writing down ideas, and dreaming and stressing about costumes and hairstyles.
"I was kind of in a recovery mode where life kind of stops for awhile," Hunter said. "But I had to keep myself focused on something positive, and this was it."
Auditions were held at the end of March. With 42 parts to cast, Hunter was worried that not enough people would show up.
His fears were unfounded. Seventy people auditioned.
"I was blown away and moved by the amount of talent that showed up from all ranges. From extremely professional talent to new people who had never auditioned, or even performed before," Hunter said. "It was amazing because we were able to choose some amazing talent to launch this show. I think this show is going to be outstanding, because of the talent."
Nearly half of the aspiring cast members were children.
"The adults, you can tell that they were nervous. The kids brought a whole new, fresh life to the audition process," Hunter said. "There's a lot of work that's going to go into it, but I also wanted this cast of kids to be a little family and to love what's happening and to just have fun when they come here. And also learn and take away what we try to teach them onstage."
The full cast gathered for the first time for a read-through and sing-a-long on April 9 at the Strand.
Hunter was "highly impressed."
"When I heard them singing in the read-through, when they'd never heard that music and they were just going and having a good time, I could feel the energy and the love for the show that they were having," Hunter said.
Cast members sat in the audience during the event because the set was being assembled for a May production of "Murder at Howard Johnson's."
"In professional theater, you never really rehearse on the actual stage where you're going to perform," Hunter said.
By the first week in May, rehearsals had moved to Duncan United Methodist Church in Georgetown. Hunter teamed up with Olivia Huggins, the music director, to work with the actors.
"What we're working on is vocals and getting the cast together so that they can understand, here is the music," Hunter said.
After a week, Drue Michael started teaching the choreography that went with each song.
"It's like an onion and you just keep peeling away the pieces until you get the final core," Hunter said.
During the early rehearsals, Hunter, Huggins and Michael worked to make the kids comfortable with performing and not intimidated by their castmates.
"Then you start teaching them on how to focus and how to stay focused. You have the big audience in front of you but there's so many lights you can't see them," Hunter said. "You just stay in your head, focus on the stage and the rest of the world doesn't exist anymore. That's what I try to teach them as kids. It's about them having fun, not about getting nervous."
"Murder at Howard Johnson's" closed on May 22 and "The Sound of Music" cast and crew returned to the Strand. The first task was to tear down the set from the previous show and start building Hunter's vision of the von Trapp family's Austrian villa from the 1930s.
In his younger years, Hunter performed in the ensemble of "The Sound of Music" and was a part of the crew of another production of the play, which is probably best known as the Oscar-winning 1965 movie that starred Julie Andrews as Maria and Christopher Plummer as Capt. von Trapp.
"Anytime there's a sequel to anything, or there's a reproduction of anything, there's always that pressure to be as good as the original," said Amanda Hughes, who plays the Mother Abbess. "I think we're very blessed to have a really amazing cast. I think it's going to be a really wonderful thing for this theater, and for our area."
The two actors playing the main roles in Hunter's production, Kevin Jayroe and Sarah Stuckey, are also veterans of the play.
Jayroe played Rolf Gruber, a delivery boy turned Nazi, in a Swamp Fox production of the musical 30 years ago. The joke back then was the next time the company did the show, Jayroe would play the captain. That's the role Hunter cast him in.
"The whole experience has been reminiscent for me," said Jayroe. "I think this is one of those casts where everyone was perfectly placed where they should be. Each of the children, they are the characters."
Stuckey portrayed one of the von Trapp children while a student at Hartsville High School.
"It's been a lot different from whenever I was in school, but it's been fun," Stuckey said. "Everybody has been so nice and sweet. The kids are hilarious and awesome. I'm going to be really sad when I don't see them pretty much every day."
Hunter and Jayroe said the play is more relevant today because of events like the Russian invasion of Ukraine, which mirrors Germany's takeover of Austria in the play.
"This show screams what's happening in Ukraine," Jayroe said.
"We're going through it live in reality and the show kind of supports it," Hunter said. "We can climb any mountain. We can ford any stream. Just follow your dreams and do good by people."
Hughes said that adds another layer to the production.
"There's going to be a whole new audience that sees this show that maybe isn't quite so familiar with how things went down back then, especially the younger kids," she said. "This show has so many things for younger kids. It's got the children actors and the great songs and the great numbers that are classics. They're also going to get a little bit of history with it."
As opening night draws near, Hunter becomes a "proud papa" and takes a back seat in the production.
"The show's in a good place. I have done my job as a director: it's blocked, it's all created. I'm in a good place," Hunter said. "There are still a lot of elements that still have to happen. But at this point in the game, we are focused on what has to happen and not worried about what we would like and just get the right things done."
Kathy Ferdon, the stage manager, is now taking more of the lead.
"It's her responsibility to make sure the cast and the crew are in the right spots so that everything can work like clockwork," Hunter said. "It's grown up. It's a big kid now and now it's 'the show.' "
Every night when the curtain rises, Hunter will watch the show from the front of the house.
"I like to hear the audience. I like to observe the audience," Hunter said. "I'm also taking notes about little things."
His role as director isn't finished. "things are going to happen. They're going to start slipping, but I have to pull it back in," he said.
In some ways, Hunter doesn't want the experience to end. In others, he's ready for his next project: a musical or a comedy next year.
"I'll be very sad at the end and every show does that to me because I don't want it to end," Hunter said. "It's a natural euphoria, which is phenomenal as a performer, an actor and a director. But when it hits that end, it's a lull and it's hard to get through that sometimes."
If you go
What: Swamp Fox Players production of "The Sound of Music."
When: July 21-23 and 28-30, 8 p.m.
Where: The Strand Theater in Georgetown.
Tickets: $21 at swampfoxplayers.com or by calling 843-527-2924.