Brookgreen Gardens capital campaign will achieve goal set 30 years ago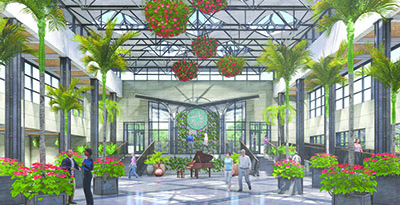 Craig Gaulden Davis An architect's rendering of the interior of the conservatory at Brookgreen.
Brookgreen Gardens is a year and about $4 million away from starting work on a conservatory that has been part of its expansion plans for 30 years.
"Our hope is that we'll break ground in early '23, and it will be about an 18-month project," said Page Kiniry, the Brookgreen president and CEO.
The 10,000-square-foot conservatory will provide an indoor space for the outdoor sculpture garden. That will allow programs that are less vulnerable to the weather.
That was the same goal identified in a master plan adopted by the Brookgreen trustees in 1988. A glass conservatory was proposed as the centerpiece of a
capital campaign launched in 1992. That effort led to the creation of the current entrance plaza anchored by a gift shop and a visitors center. The conservatory was never built.
In 2018, the trustees decided it was time to start a new capital campaign, Kiniry said. That had just started when the coronavirus pandemic arrived.
While a setback in many ways, Brookgreen remained open, and Kiniry said it made people more aware of Brookgreen's value.
"I think a lot of people who forgot about Brookgreen were reminded in the pandemic that this is a place that's very important to them," she said.
The $20 million capital campaign garnered pledges of over $16 million from 50 to 60 donors.
That was the "quiet phase" of the campaign, Kiniry said. Today begins the public phase.
"This is a way that everybody can help us grow," she said.
The conservatory is envisioned as a tropical garden that will also serve as event space in addition to space for changing exhibits. It will have a visitors center at the front since the former center was renovated last year to create a museum-quality gallery.
The conservatory will also include a butterfly exhibit. A temporary exhibit created at the wildlife center proved popular, but aged out.
The original plan for a glass building has evolved, but it will maintain the "Brookgreen look," Kiniry said. Because of the master plan, infrastructure is already in place.
"We don't want to build just to build," Kiniry said. "We want to build for purpose."