Bundy won't return to seat on planning commission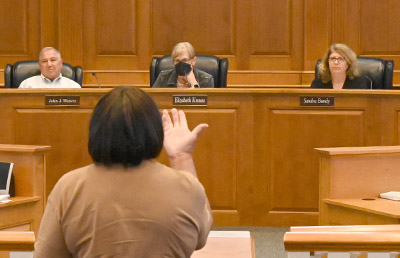 Bundy, at right, listens to comments at a hearing. The terms of Elizabeth Kraus and Johnny Weaver are due to expire next month.
Sandra Bundy had a question.
"How do we get projects into the capital improvement plan?" she asked as the Georgetown County Planning Commission prepared to vote on the transportation element of the county's comprehensive plan.
Approving the element, and its goals and strategies, is the start, she was told.
The vote was the last Bundy will take. She learned after the meeting from County Council Member Clint Elliott that he plans to nominate her replacement next week.
The decision comes a year after Council Member John Thomas, who resigned from the District 1 seat Elliott now holds, was told that the council wouldn't support him if he nominated Bundy to a full term.
Commission members serve until they are replaced. According to county records, Bundy was one of three serving members whose terms expired in March 2021.
"What hurts me more than anything was I asked Clint for some common courtesy," Bundy said afterward, adding that she had not been told in advance she would be attending her final meeting.
Elliott said that he, like Thomas, didn't have the support on council to reappoint Bundy.
In addition, "we just need to get some new blood on there to try to move things along," Elliott said.
He regularly attended commission meetings after announcing his candidacy for the District 1 council seat, for which he was unopposed.
Elliott said he submitted an application for his appointee last week, but declined to name him.
Bundy said Elliott told her he plans to appoint David Roper, the chief and director of public safety at Coastal Carolina University, who lives in Murrells Inlet.
Bundy is a life-long Murrells Inlet resident who was appointed to the commission by Thomas in December 2018 to fill the unexpired term of Lee Shoulette, who died earlier that year.
Thomas planned to reappoint Bundy to a full-term last year, but said he was told by Council Chairman Louis Morant that other members had raised objections. Bundy had been critical about what she said was a lack of planning and enforcement of zoning regulations.
Thomas resigned his council seat last May. Elliott took office last month.
"I did my best, tried to be prepared, ask good questions," said Bundy, a real estate agent whose previous government experience was as a council member in the Marlboro County town of Clio.
She served on the committee that created the Murrells Inlet Watershed Plan and the board of Murrells Inlet 2020, which gave her its Golden Oyster award for environmental stewardship.
Bundy said she was disappointed that she will be leaving without completing the land-use element of the comprehensive plan. Work on the 10-year revision mandated by state law began when she joined the commission. It is now scheduled to be completed by the end of this year.
The natural resources element that the commission approved in November was a major accomplishment, Bundy said.
"We had made great headway until County Council stripped it of ambitious goals that are really important to my community," she said.
The council vote to approve the administration's revised plan came two days before Bundy's final commission meeting.
Until that point, Bundy said, the process was a model she would like to see followed for the land-use element.
"The Planning Commission and staff did a tremendous job to reach out to the entire county for public input," she said.
Bundy said her time on the commission gave her access to training on a range of related topics. She also joined the American Planning Association.
"I'm sorry I didn't get more done," she said, but she added, "I will continue to be engaged in the process. I'm not going anywhere."