Candidate for governor backs dredging port for steel mill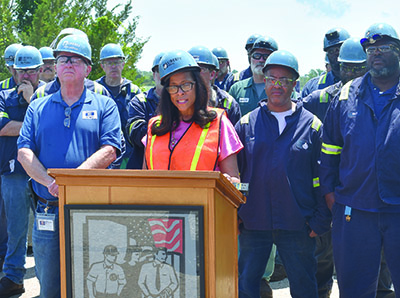 McLeod addresses steelworkers on a visit to the mill this week.
State Sen. Mia McLeod brought her gubernatorial campaign back to Georgetown this week to support local steelworkers and call for the dredging of the port of Georgetown.
"Liberty Steel currently employs around 65 workers, but with an investment of dredging the port of Georgetown to its project depth of 27 feet, Liberty Steel would be able to expand its operation," McLeod said. "Because the port's depth is currently only 18 feet, there are restrictions on what types of vessels may utilize it. Instead of turning away business, we need to send a message that this port is open for business."
The city and Liberty Steel are locked in a battle after City Council included the property in a "redevelopment district," known as REDD, which states that "heavy industrial uses are incompatible when in close proximity to the city's downtown, waterfront, historic district, residential neighborhoods, and gateway corridors and intersections."
The city's zoning administrator determined that the mill was in violation of the grandfather clause in the ordinance that allowed it to operate.
A second hearing is scheduled before the city's Board of Zoning Appeals on June 1. The board declined to rule at a meeting in April, deciding instead to seek more information.
McLeod, a Bennettsville Democrat, spoke with Liberty Steel workers and got to see parts of the mill up close.
"The city's efforts to close this mill are wrong for Georgetown and wrong for the hard working people of this area who will be impacted," she said. "We are calling on the city's citizen-led committees to do the right thing. And we're calling on the city's mayor to stop trying to bust our jobs."
In regards to the port, McLeod said Georgetown could relieve some of the stress on the port of Charleston, which is running at record levels.
"We must not forget that South Carolina has more than one port and these ports are not in competition with each other," she added. "It's time for our state and local leaders to work together, to ensure that South Carolina's ports in Charleston, Georgetown and Jasper County are able to individually and collectively maximize their benefit to have an impact on all of our communities and our state's economy."
James Sanderson, president of United Steelworkers Local 7898, said McLeod asked if she could visit the mill.
"She came to see for herself first hand. So when she starts talking about trying to get this port dredged, she can speak with authority," Sanderson said. "Look at all the money that [President] Joe Biden gives South Carolina and all the other states. [Can't] some money be used for the port of Georgetown?"
The county is set to acquire the port of Georgetown from the state under a proviso included in the state's fiscal 2023 budget.
In exchange for the property, the S.C. Ports Authority will keep $3.25 million that the legislature budgeted for a port dredging project in partnership with the county and the Army Corps of Engineers. That project was scrapped because the cost was more than twice the initial estimates.
The S.C. Ports Authority property is actually just outside the city limits. There are 45.2 acres overlooking the harbor between the Sampit River bridge and Liberty Steel's mill. Another 210 acres are upstream of the bridge and diked for a spoils site.
If the port gets dredged, Sanderson is certain that Liberty Steel will expand its operations.
"So, let's see where the City of Georgetown and the state of South Carolina is at when it comes to jobs," Sanderson said. "They talk it, but now let's see if they're going to walk it."
Georgetown became a port of entry in 1732. In 2000, the port handled 1.8 million tons of cargo.
That had declined to 7,500 tons by 2017, and the port hasn't been used since, according to county data.