Candidates in town election talk about the issues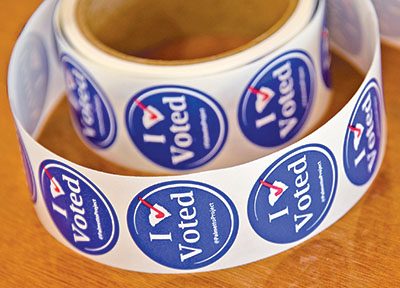 Town voters go to the polls Tuesday from 7 a.m. to 7 p.m. at Pawleys Island Community Church.
Mayoral candidates
Jimmy Braswell, 72, retired from the textile and furniture industries. He served on the Planning Commission before winning election as mayor in 2017.
Brian Henry, 52, is co-owner of the Sea View Inn and Palmetto Cheese. He served on the town Beach Committee and its Accommodations Tax Advisory Committee. This is his first run for public office.
Council candidates
Ashley Carter, 70, is an agent at Pawleys Island Realty. He was elected to council in 2015 after serving on the underground wire committee and the Pawleys Island Beautification Foundation.
Guerry Green, 59, is owner of Screen Tight, a manufacturing company. He served on the underground wire committee and headed the committee that raised money for the new Town Hall. He was elected to Town Council in 2017.
Rocky Holliday, 67, is the retired founder of a shipbuilding firm and a marine electronics firm, who now has an international consulting business for major corporations. He was elected to council in 2015 after serving on the Planning Commission.
Josh Ricker, 52, is vice president and co-founder of a fleet management company that markets team buses to universities. He co-chaired the ad hoc Finance Committee. This is his first run for public office.
Sarah Zimmerman, 61, is a real estate agent with ReMax Beach and Golf. She was elected to Town Council in 1997.
What is the most important issue facing the town?
Braswell: "How to fund future beach renourishment. We've hired lawyers. They're looking at doing a [bill] in the legislature. That's not a slam dunk. There may be another method. I want to have another town forum to get other people's ideas. The millage tax is one option, but are there some more that we're not aware of."
Henry: "Holding the line for old Pawleys. There have been changes certainly on the island, minor changes. We've got some bigger houses, a new Town Hall. The biggest threat to me is allowing fundamental changes to happen on the island. Once you allow fundamental changes, you're on a downhill slope.
"The biggest threat is the camel getting its nose under the tent and us changing something fundamentally that clears the way for bigger and more far-reaching changes.
"Public access parking, while on its surface sounds like a good idea because we can get more money, those are the kinds of changes that open Pandora's box."
Carter: "Residency. We're in good shape with the beach renourishment program right now. This issue about residency, long term, has got to be seriously addressed."
Green: "Stability. We had 20 years of stability, boring stability. We've had a couple of years, since I've been on council, that have been contentious. There were hard-right-turn ideas. That's one of the reasons I'm supporting Brian Henry. He says he's got a 10-year commitment. We need that type of stable leadership."
Holliday: "Getting more people involved so we can embrace more of our assets. We're off to a very good start with our beach and that's a major asset. But it's only one of the assets. The creek for example. A lot of people, particularly those who live on the creek, would tell you it's more important. We have to be able to embrace all the assets of the island, kind of broaden the aperture a little bit."
Ricker: "Funding and ensuring that we are minimizing the impact on homeowners on the island. We have to raise money, there's no doubt. We haven't accepted any other source of revenue except for a tax. That is a huge problem. We need to put together a comprehensive funding plan a diverse funding plan."
Zimmerman: "Taxes. Sources of funding for maintaining our beach, creek. That's a huge thing. It's the money."
What does the town do well?
Braswell: "We do a lot of things very well together. A prime example is Town Hall. Ninety percent was paid for by contributions. That shows how people truly love this place and want it to be the best it can be. The strength of the town is the property owners, and also our visitors. That kind of passion about a place, that is a total strength"
Henry: "There is the opportunity to manage Pawleys for the future that you want. You can't build condos, you can't build more commercial, you can't open a bunch of stores. It's going remain residential for the long haul and it's got the opportunity to protect itself from unwanted development.
"There's uniformity on Pawleys in terms of the houses and the older way of life. There's some natural camaraderie amongst the property owners here. Everybody loves Pawleys Island. That makes for like-minded people, which I think is a strength."
Carter: "Communicating with the property owners. It's listening to the property owners and trying to do things and act on things accordingly."
Green: "It's the people. Like when we did the underground wiring. I was in charge of that committee. I was somewhat skeptical that people would pay even though they didn't have to. It was voluntary, but 700 people paid. That is something we do well, come together for something like that.
"Another example was Town Hall. If the constituents hadn't paid for that, the town would be close to a million dollars further in debt. I don't think that happens anywhere else. That is a unique thing to Pawleys Island for people to reach deep into their pocket and to give it to a government entity. We come together well and support the island."
Holliday: "The biggest strength here is the sense of community that this place has. We respect our past, but I think the town also has its eye on the future. I have not seen this place resist positive change. You have seen several examples of that with the beach renourishment and the underground wiring and the new Town Hall. Change is embraced when it's positive."
Ricker: "We've got a fantastic administrator who is actually getting a lot of things done that you aren't able to get accomplished with for-free governance. We have held on to the values of Pawleys very well over the years. It's ready for sort of an evolution. All of the basics have been met.
"We have been proactive about a couple of things like the beach. I'm finding as I meet people there are some really, really cool people on the island ranging from far left to far right. They're all kind of tied together by Pawleys."
Zimmerman: "The strength of Pawleys Island is the people, our ability to come together, whether it be to raise funds for a new Town Hall or decide beach renourishment projects.
"At the end of the day, after all of this, we're going to have to come together. And we will."
What is an issue the town has failed to address?
Braswell: "Three things. They all have weight to me. How are we going to fund beach renourishment going forward?
"Two, is our creek is in bad shape, especially on the south end. It needs to be dredged. The how, where and when and all that I have no idea, I've already started conversations with the Corps of Engineers.
"The third one is our north end jetty. It's in bad, bad shape and in need of repair. I call it the Great Wall of Pawleys. If it went it could affect the entire island. I've talked to the Corps about that already."
Henry: "No one wants an architectural review board necessarily because they don't want to be told what they can and can't build. There should be a little more attention to what can and can't be built. There are more and more houses being built that are out of character for Pawleys Island. Everybody's got different tastes, but putting some more broad parameters in place so that we don't get totally out of whack.
"There was a finance committee that operated for how many months, four, that basically ended its time with no recommendation. That's pretty weak."
Carter: "We've gotten some communication recently from property owners concerned about the creek filling in, especially in view of the sand that's being put on the south end. That's the one central issue. That's something we're going to have to address with our engineer."
Green: "I don't think there's any big overriding issues. There's a real opportunity with the county. They've got new leadership. Everybody's working for that 1-cent tax, with a good relationship perhaps we could go in there and get a piece of that. The whole county uses that. How about dredging out the creek with that money, using the sand to put back on the beach."
Holliday: "We've got some pretty significant issues with the creek that we need to deal with. It used to be that when we had a flooding event around Town Hal, you would have the water level in the creek almost covering the grass. These days, we have water in the road before the creek reaches that level, and I think it's an issue of draining. We've not done a good job of managing the drains and the stormwater systems. A good bit of our flooding could be tracked back to that."
Ricker: "It's a culture of exclusion. It hasn't been welcoming to enough people. It hasn't leveraged everybody on the island it could have. We're going down one path and if you're not for that path we're not going to pay you a lot of heed. You've had a lot of people not wanting to get involved in politics."
Zimmerman: "I don't think we have focused on the north end jetty or on creek dredging. Those are two items that we need to focus on in addition to keeping our beach healthy. If we don't have the beach we don't have anything."
What needs to improve?
Braswell: "I'm sure there's stuff there. Our town administrator is fabulous. Our police force does a fabulous job. One of the things I didn't think we did well at all was our communication, especially during storms. I have improved that. I worked with Ryan [Fabbri, the administrator]. During storms, our communication is over the top now.
"Transparency. Some things have gone on in the past that haven't truly seen the light of day"
Henry: "The town could have more community events for the residents, non-residents, maybe something on a quarterly basis in the town park that rarely is ever used. I would love to see them do some charitable events over here to support organizations throughout Georgetown County.
"The area for improvement is to bring the island back together. People talk about unifying the island and the island being divided. It's really been in the last two years that that division has reared its head because of factioning of north end, middle of the island, south end and now further divided by full-time residents versus non-full-time. We need to get away from that.
Carter: "It's overall communication. We can always improve on our communication with the property owners. I don't see how we can govern as council members or mayor unless we have that good strong line of communication with the people we're governing."
Green: "We can be smarter financially. I think we can do planning better. We don't see the budget until the same time they expect it to be approved. That is difficult. The more eyes that you have looking at that the sooner the better. Municipal accounting is different from private accounting."
Holliday: "We can always do better. We can always communicate more widely, we can always get more people involved. We have a huge resource here in terms of our population. How many communities of this size would be able to reach out to its population and pay for a new Town Hall? We've got to keep that spirit, keep that sense of community in place."
Ricker: "Transparency in how the town operates. It has to examine many more options to problems on a deeper level. It has to encourage people to get involved. There's been an extreme lack of transparency. I've seen it myself. The overwhelming consensus either describes that environment or is aware of that environment."
Zimmerman: "Finding additional sources of funding for beach renourishment, creek and north jetty."
Where is the town most vulnerable?
Braswell: "Our beach is vulnerable right now until we get this renourishment done. Another thing that we're going to have to address is our issue with flooding. It used to be a novelty when we had a king tide and the water was in the street. Now it's a monthly occurrence. We're not going to stop that from happening, but how do we address it, especially when we are dealing with our streets that are owned by DOT and the drainage system is owned by them. Little Pawleys is way down the list. We've got many, many areas where it comes in but it's very hard to get it to go back out."
Henry: "Creek-side flooding. The oceans aren't going down, if anything they're rising a little. We need to start thinking how we're going to somehow mitigate that flooding on the creek side. It's not going to destroy the town anytime real soon, but it sure is a nuisance when the roads are flooded. It's going to take support from the state and federal government and the county."
Carter: "The issues that have been brought up recently about residency. That's something that we're going to have to address after the elections and strengthen that area and get it more well defined. It's something that the town needs to do so that anybody that has an interest in running for office, that's well defined and not something that's going to be subject to someone coming back and challenging the results."
Green: "Pawleys Island is fragile. We came within one vote on that finance committee of voting for mid-island access, which doesn't sound horrible until you look into it. When you start nit-picking those numbers you're not going to get hardly anything and it's probably a one-time opportunity.
"There were negotiations going on without council's knowledge or without the finance committee's knowledge to lease the property. It truly would have changed Pawleys Island. It's what I call a hard right turn that's going to change Pawleys forever that would be difficult to take back. That's always a danger."
Holliday: "I don't see a lot of vulnerability. We've got a lot of smart folks involved in mostly volunteer positions, but all with our eye on the ball and on what needs to be done to protect this place and keep it secure. You have a lot, in the pieces you write, about taxation. That's not the No. 1 issue for me. We have to look at all sources of possible revenue and tightening our belt, spending cuts. It's not a one-way street in terms of the town's finances."
Ricker: "Financially. We put ourselves in a position where we're now open to a knee-jerk response. A lot of people are pushing for a property tax. The old administration is pushing for a property tax and is really emphasizing that as the only solution. There are a ton of options.
"We're vulnerable to making some very bad decisions."
Zimmerman: "Streets and drainage. Those are also some items we are working on with the state to improve."
Two years ago, Bill Otis stepped down as mayor saying he hoped "boring government" would continue. What's happened to boring government?
Braswell: "This is probably the most contentious election we've ever had on this island. Some people are doing things that may be legal, but they're damn sure borderline. We'll just see how this all plays out."
Henry: "Boring government means things are just chugging along, but we've got some real challenges in the next 10 years that we've got to be pro-active on and involve the community to make it happen.
"Boring government also says you've got the same people. I think we need some new blood, and that includes some of the committees."
Carter: "That went out. The whole reason I got involved initially when Bill Otis approached me, I always felt the majority of the property owners on Pawleys always had the same common interest. It could be considered a little boring. I've learned there's always something that can develop that's challenging."
Green: "Radical ideas that were a hard right turn. The middle part of the island [access], parking meters up and down the beach, a business license, those kind of ideas are what is dividing council. We have a paradise on Pawleys Island. It's fragile."
Holliday: "More people being interested in participating. How many years did we go without Pawleys Island having any competitive races? It was basically an appointment. We've gone now to competition for the various seats. I don't necessarily see that as a bad thing. I wish perhaps that it had been a little less contentious."
Ricker: "The old administration is still trying to keep a foot in the door. You can have arguments. You can have disagreements. You can have differing opinions and still have a boring government if the culture allows for it. A boring government is one where people are comfortable explaining things. If we can simply have an environment where people can have their own opinions – as long as they're not aggressive or full of self-interest – I think we can have a very boring government."
Zimmerman: "How many storms came through? Unfortunately that's what triggered all this discussion. You start talking about money and you get everybody's attention."