Capacity crowd hears concerns about density of future development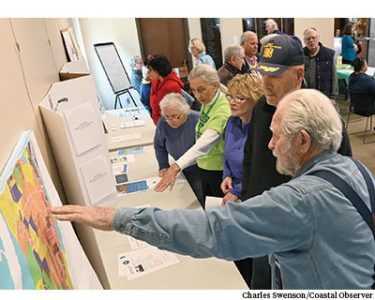 Tom Stickler, right, goes over land-use maps with Jerry Rovner before the forum.
Concern that an update to Georgetown County's future land-use plan will lead to increased population density on the Waccamaw Neck drew an overflow crowd to a forum sponsored by the citizens group Keep It Green. The two-hour civics lesson attracted more people than the publicly-fund sessions that have focused on the area's growth over the last six months.
"We all need to get much more informed and engaged," said Mary Beth Klein, a member of the Keep It Green committee.
The group was formed to oppose efforts to rezone the former Litchfield Racquet Club to allow the tennis courts to be redeveloped for residential use. That was fueled by concern that it could set a precedent for golf courses to be converted to homesites.
Keep It Green has now turned its attention to the 10-year revision of the county's land-use plan. It is one of nine elements of the comprehensive plan that state law requires local governments to maintain.
"We encourage everybody to find it, open it and read it," said Cindy Person, a Keep It Green committee member. "We better be sure we like what it says."
The first draft of goals and strategies for the updated plan was presented to the county Planning Commission in July. It included a change to the way the county defines density.
The are currently three categories: low, up to 2 units an acre; medium, up to 5 units and acre; high, up to 16 units an acre. The draft added three more, including "preservation density" of on unit on at least 50 acres and "very low density" of one unit on at least 5 acres.
What caught the attention of Keep It Green was "very high density" of over 20 units an acre.
"If we wanted concrete jungles, we have plenty to choose from going north one county, going south one county," Klein said. "We chose here because of what our community has to offer."
Planning Commission members also raised concerns about very high density and the designation was removed in a subsequent draft. The limit on density is proposed to remain 16 units an acre, which can currently be achieved only with efficiency apartments.
Keep It Green hoped to hold its forum to coincide with the latest draft of the land-use plan, but "we waited and we waited and we waited," said Person, an attorney and long-time Litchfield property owner. "We have a really good idea of the direction things are heading."
The Planning Commission is due to review the new draft next week.
Keep It Green members were also concerned by proposals that came out at a four-day charette in October that was part of a county-funded land-use study of the Highway 17 corridor on Waccamaw Neck. Those included a mixed-use "downtown" centered around the Waverly Road intersection.
All the options were for higher density development, Klein said. "We were a little disappointed."
The concept, created by the consulting firm Stantec after a series of public meetings, "would have been a good vision years ago," Beverly Sullivan, a Keep It Green committee member, said. "It's just not a plan that's going to work for this community."
While Keep It Green's goal was to educate, its members also learned that their claim that Stantec was driving the land-use plan update was wrong.
The update is being drafted with help from the Waccamaw Regional Council of Governments. The $200,000 Stantec study is separate.
"They've been running in tandem, but it's confused everybody," said John Sands, who serves on the steering committee for the Stantec study. "They haven't been coordinated."
Person, who told the audience that the consultant had prepared the draft land-use plan, later acknowledged that Keep It Green had been misinformed.
Sullivan said she wasn't entirely convinced, but said the key point was that Keep It Green didn't like the very high density concept or the Stantec proposals.
Midway Fire and Rescue Chief Doug Eggiman told the audience that there are public safety concerns as growth continues, but state law limits the ability of local government to fund additional services.
Midway had 3,886 calls for service last year. That was more than double the number in 2006, the year the legislature passed a bill limiting tax rate increases to the combined federal inflation rate and county population growth rate. Over the same period, Midway added just three firefighters.
"We have not been able to do much growing with this area since 2006," Eggiman said. "It worries us whenever we talk about any further growth in the community."
Under study: Three views of growth
Highway 17 corridor study
Who: The consultant, AECOM, is a global engineering firm with offices in the state.
What: Update of a 2003 study of traffic conditions with goals to improve safety and reduce delays. The first study recommended ways to postpone widening the highway to six lanes.
When: Work began in June. It included a public forum in September. A draft of recommendations is under review by a steering committee.
How much: The $100,000 study is funded by the Grand Strand Area Transportation Study.
Highway 17 corridor land-use study
Who: Stantec, a Canadian-based firm with offices in the Carolinas, is the consultant.
What: Conceived as a companion to the traffic study, it is focused on how the area will develop and redevelop.
When: Work began in June and included a forum in September and a four-day "charette" in October. A follow-up meeting with AECOM and the public is expected in April.
How much: Georgetown County is funding the $200,000 study.
Future land-use plan
Who: Staff from the county planning department and Waccamaw Regional Council of Governments.
What: One of nine elements of the state-mandated comprehensive plan, it sets goals for future growth in the county.
When: Waccamaw Regional started work in 2018. The Planning Commission reviewed the first draft in June. A revised draft will be presented at a workshop Tuesday. If approved, public meetings will be scheduled at the Murrells Inlet Community Center, the Waccamaw Library and in the Georgetown area.
How much: $25,000 paid to Waccamaw Regional.