Chairman backs off leash law revision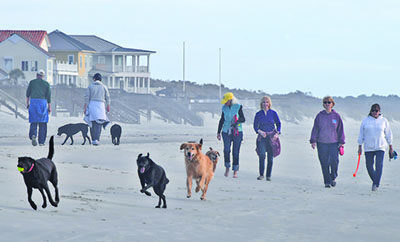 Morning dog walkers at North Litchfield.
A plan to end the ability of owners to unleash their dogs on Georgetown County beaches is no longer on County Council Chairman John Thomas' agenda after hearing from constituents. "I'm planning a strategic retreat," he said this week.
Georgetown County allows dogs on the beach to be off the leash, if they are under the owner's voice command, from 7 p.m. to 9 a.m. That conflicts with state law that requires dogs to be leash whenever they are off the owner's property, including property that is rented.
Thomas, who lives at North Litchfield, said last week he wanted to bring the county law in line with state law after the board of the Litchfield Beaches Property Owners Association voted to ask the county to change signs at beach accesses to reflect the state law.
"It's clear there are a lot of people who are local who really look forward to walking their dogs off leash early in the morning," Thomas said this week.
The town of Pawleys Island last year changed its leash law to allow dogs to be under voice command in the off-season and from 8 p.m. to 8 a.m. from May through September. It had been following the state law.
Concerns about dogs off the leash focus mostly on the lack of control owners maintain. Supporters of the current law argue that most owners comply with the law and shouldn't be punished for the behavior of those who do not.
Thomas said he spoke with the Georgetown County Sheriff's Office, which has a two-member beach patrol. "They have problems with dogs off-leash during the day in the summer," he said, not during the 7 p.m. to 9 a.m. window.
"When you think about it, there's nothing broken. They're out there when nobody else is," Thomas said.
Of more than a dozen people who contacted him, Thomas said only one supported following the state leash law.