Chairman of the board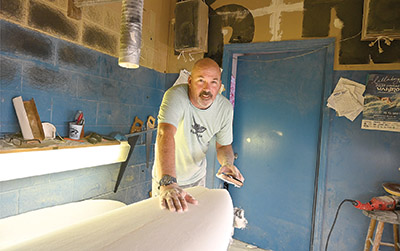 Kelly Richards in the shop where he has worked for 40 years.
For 40 years, a man working in a small, dusty room in Garden City has been hand-crafting world-class surfboards.
"I'm lucky as hell to do what I love to make a living," said Kelly Richards, owner of the Village Surf Shoppe and Perfection Surfboards.
Richards still makes surfboards the old-fashioned way: by hand. His tools include a pencil, wooden templates, a caliper, a hand saw, an electric sander and a hand planer.
"Every surfboard is different and it's amazing how an eighth of an inch can change the whole board," he said.
He starts with a foam "blank" in the shape of a surfboard.
"You try to match the blank up with the board that you're building so you don't have to work as hard, and you come out with a better board," Richards said.
Richards crafts the blank in a 1,600-square-foot shaping bay connected to the surf shop. Once he's finished, he takes the blank to a paint shop in a nearby industrial park off Business 17, where he airbrushes it with water-based paint and then lets it dry.
"The water goes away and leaves the paint," Richards said.
After several coats of paint, fiberglass and fins are added.
"A surfboard is like a good M&M. The foam is the soft, chocolate inside," Richards said. "Then we put on the resin and the fiberglass that gives it the hard shell."
It takes Richards about 10 hours spread out over a week to create a surfboard. He could finish quicker, but he has to wait for the paint to dry between coats.
Richards used to have to turn away surfers, especially young ones, who wanted to fix surfboards, or learn how to build them from him.
Now he can't find anybody that wants to do the work.
Richards was born in Arkansas and moved to the Murrells Inlet area when he was 10. He started repairing surfboards for Eric Eason, who was owner of the surf shoppe at the time, when he was 14. He was also a member of the shop's surfing team.
He was so in love with surfing and the beach that when his family moved back to Arkansas when he was 15, he stayed.
"To me, the best thing about surfing is if you've had a bad day, you don't have to put your boat in the water, you don't have to crank up your dirt bike and make sure it's running," Richards said. "You just grab your board and go out there. When you come out of the water you've been cleansed."
By 1981, Richards started building surfboards.
"There's probably been more East Coast surfing titles won on my boards than any other board," Richards said.
In 1988, Richards bought the shop from Eason. Brian Campbell later came on board as Richards' partner.
Richards and his Perfection Surfboards staff used to build about 2,500 boards a year and sell them wholesale along the East Coast. The company was the third largest supplier of surfboards on the East Coast.
"It was a nightmare," Richards said. "You don't make much money and if an account burned you for one surfboard you had to build 10 or 15 to make up for what you lost."
Richards now builds about eight boards a week, mostly through special orders.
If he's in the shop when someone comes in to order a surfboard, he'll walk them through the process and try to make sure they order the right one.
"The most important thing is getting the right surfboard made for your ability and your height and weight," Richards said. "If you come in and buy the wrong board, you're not going to learn."
Some people have made up their mind and don't take his advice, he added.
Perfection surfboards start around $525.
"It's definitely the heart of the surf shop, but retail makes more money," Richards said.
J. Wesley Hughes was 8 years old the first time his father brought him to the surf shop to buy one of Richards' surfboards.
"We called it the snow cone because it had every color of the rainbow in it," Hughes said. "It was big and wide and I had it for a long time."
He still buys surfboards from Richards, but now he brings his sons – Brian Matthew, 14, and Jesse James, 6, – with him. Hughes put Brian Matthew on a surfboard with him when he was about 4. Jesse James is just starting to learn the sport.
Richards also has two sons: Cam, a world champion surfer who uses his father's boards; and Cole, who used to be a member of an Oakley sponsored-surfing team and now does marketing for the company.
"Surfing has been very good to our whole family," Richards said.
Richards said he'll keep building surfboards as long as kids keep returning to tell him how much they love their boards.
"The first time that I build a surfboard for a kid and I'm not amped to see him happy, I'm going to walk out of the building," he said. "Building surfboards, you get rich. You don't get money rich, you get a feel-good rich."