Chairman's departure has district looking at succession plan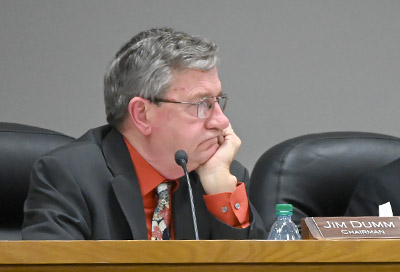 Jim Dumm served on the board for 27 years and was chairman since 2008.
When Chairman Jim Dumm resigned from the Georgetown County School Board at the end of 2021, Vice Chairman Arthur Lance became acting chairman.
Although he was not elected chairman by his fellow board members, Lance has taken over all the responsibilities of being chairman, according to Lindsay Anne Thompson, the district's legal counsel.
District staff even had Lance sign some open contracts that human resources personnel can use when offering jobs to applicants for the 2022-23 school year, to replace contracts Dumm had already signed.
Dumm, who was first elected to the board in 1995, had been chairman since 2008. He was the first chairman elected by his fellow board members. Before that candidates either ran to be board members or ran for the chairman's seat.
"The chairman, long ago, may have had more input with the superintendent than in the past few years," Board Member Patti Hammel, who represents District 1, said. "They were viewed differently than our board chair now. The board chair now is truly just a conduit that actually handles meetings. Every board member has the same access and the input with the superintendent."
Hammel said the election of a chairman is better left in the hands of the nine-member board.
"It's somebody that they have confidence in handling public situations," Hammel said. "That's where Mr. Dumm had just been outstanding. And he had been outstanding in not overreacting to anything. He really was a steady hand and truly a public servant."
The 2008 election was also the first time that board members ran in seven districts that mirrored those of Georgetown County Council. Elections also became nonpartisan.
Dumm was one of two at-large members who served out their terms until 2010.
Among the duties of the chairman listed in the board's policy manual are: sign the instruments, acts or orders necessary to carry out state requirements and the will of the board; consult with the superintendent to plan meeting agendas; confer with the superintendent on crucial matters between meetings; call special meetings; and be responsible for the orderly conduct of all meetings.
The board has no policy in regard to what happens when its chairman resigns.
The board has sought opinions from outside counsel and attorneys at the State House, and discussed that advice in an executive session during its Jan. 18 meeting, Thompson said in an email.
"As a result, in an upcoming Board meeting, the Board will be voting on the vacant Board Officer position in public session," Thompson said. "Until that time, Dr. Lance will continue to serve as the acting Chair."
Board Member Lynne Ford, who represents District 6, said a vice chairman automatically stepping into the chairman's role is common in the nonprofit world.
"It's good training for them to become chair. It's not necessarily that in school board, but it could be," Ford added. "He was elected vice chair, so to me that means it was not an issue that he was automatically made chair."
The board currently has no vice chairman.
Board Member Mike Cafaro, who has the other at-large seat on the board, would like to see a vote on a new vice chairman happen after the election to fill Dumm's vacant at-large seat on March 29.
"I think it would be a good idea to go ahead and fill that position," Cafaro said. "We need to fill that void as soon as possible."
"Right now I think our concern is filling the seat on the board because we do have a policy for that," Hammel said. "I think as soon as we get a full board there will be discussions on how we handle that."
Ford, who is the secretary of the board and now next in line to be chairman, would like to wait until after the election in November, when three seats will be on the ballot.
"Succession planning is very important but it's not something that's first and foremost. I don't see it as a critical issue," Ford said. "I think it makes sense to do it in the fall when we nominate our officers."
Whoever wins on March 29 might not be seated on the board until May 3. According to district policy, a new board member cannot take office until a week after the election results are certified. The election won't be certified until a few days before the April 5 board meeting. Because of spring break, the board won't meet again in April.
Thompson said even if the new board member is not seated until May 3, they would still be considered a member and consulted on anything the other board members are.
There is also no policy about what would happen if Lance could not serve as chairman.
Next in line after Ford is Pat DeLeone who is parliamentarian.
"I anticipate that we will be making some changes to our policies to outline a more specific succession plan in the near future," Thompson wrote.
"We really do recognize the need for a policy going forward. I think this was a new situation that we had not had before. I think there will be forthcoming discussions on how to handle it," Hammel said. "Because this is such an odd situation, I don't think there was really preparedness for it. But I think that in the future there will be a written policy."
Ford doesn't anticipate having to step in as chairman.
"I don't really foresee Dr. Lance not being available," she said. "We will figure out what to do next."
Hammel was reminded of 2020, when School Board Members Richard Kerr and Elery Little died within months of each other. Without a policy in place about when to hold an election after a member dies, the board operated with seven members for five months.
Hammel said that was another instance of the board not knowing it didn't have a policy until a unique situation arose.
The board has since updated its policies on vacant seats.
Lance could not be reached for comment.