Henry confident of win as voter challenges reviewed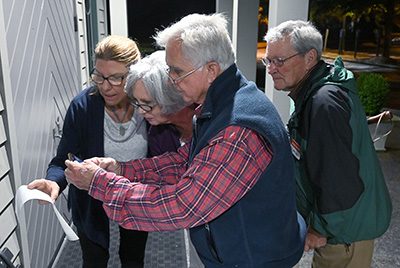 Jimmy Braswell, center, looks at the early results that show him leading Brian Henry in the race for mayor. Henry's father, Jim, right, looks on.
Ashley Carter and Sarah Zimmerman won re-election to Pawleys Island Town Council, but the outcome of the race for mayor and the two remaining council seats hinges on 29 challenged ballots that will be reviewed today.
Pawleys Island Mayor Jimmy Braswell saw a 43-29 lead over challenger Brian Henry in his bid for a second term reduced to a 58-58 tie as absentee and early-voting ballots were counted.
Henry said he is confident he will win the election once the challenged ballots are counted. Those include his ballot.
The 29 challenges "have been cherry-picked from voters who are favorable to my candidacy," Henry said. "Ultimately, everyone who actually cast a ballot will be counted and I will be announced mayor."
Braswell seemed to share that feeling as he read the printed results after the poll closed. "I wish some more of my voters had turned up," he said. "It doesn't look good."
The uncontested absentee votes favored Henry by nearly 2 to 1.
"We're going to see what the election commission has to say," Braswell said. "I owe it to everybody who supported me."
Carter leads the field of five candidates seeking four council seats. He got 108 votes. Zimmerman had 99.
Council Member Rocky Holliday had 72 votes, and Josh Ricker, the only challenger in the council race, had 66. Council Member Guerry Green, who is seeking a second term, had 54.
Leda McIntyre Hall, who dropped out of the race after the ballots were printed, got 15 votes. There were also four write-ins.
Green backed Henry for mayor and said he expects to pick up additional votes when the challenged ballots are counted. He and his wife, Fran, were among those who were challenged at the church. Absentee ballots from their son and daughter were also challenged.
"What strikes me is the hypocrisy," said Green, adding that Glenn Kornahrens, who was a poll watcher for Braswell, doesn't live on the island year-round. "He's the one contesting all the votes."
There were 72 votes at the poll in Pawleys Island Community Church. There were 67 absentee ballots cast, according to printouts obtained by the candidates. Of those, 23 were challenged by the Braswell campaign. There were six ballots challenged at the poll.
Tuesday's election was the first time the county has used a new Express Vote system adopted by the state. Votes are cast on a touch-screen machine that prints a paper ballot that is then scanned to provide a digital record and preserve a paper trail.
Henry said he was about to insert his ballot into the scanner when he was challenged by Sumter Moore, a poll watcher for Braswell. "I was shouted at. I backed off," he said.
His wife, Sassy Henry, was not challenged.
Moore said he had planned to challenge Sassy Henry, but was unsure of the process. A former legislative liaison for the state Department of Natural Resources, he said he is familiar with politics, but this was his first involvement with an election campaign.
The Henry campaign didn't challenge any votes. Jim Henry, the candidate's father, served as his son's poll watcher. He and Moore chatted amicably as they waited for voters to arrive. There were no hard feelings, Jim Henry said.
Residency was a dominant issue in the election. Henry, who is co-owner of the Sea View Inn, changed his voter registration to the inn to run for mayor. His wife and their two grown children also claimed the inn as their residence. They were among 40 voters who were added to the town's registration list in the month before filing closed.
The elections board, which runs the town election, will hear the challenges starting at 10 a.m. in the Office of Voter Registration and Elections.
"There are usually one or two challenges every election," said Dean Smith, who chairs the elections board. The number in the Pawleys Island election, he added, "is very rare."