First woman takes office as Georgetown's mayor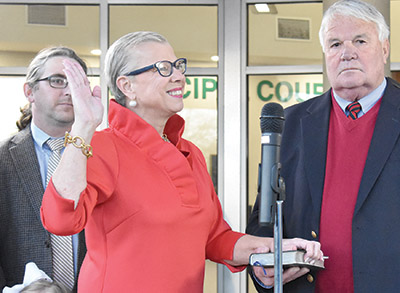 Carol Jayroe takes the oath of office outside the municipal court as her husband, Edwin, holds the Bible.
President George W. Bush promised to leave no child behind.
In the middle of making history on Monday, Georgetown Mayor Carol Jayroe said she and the new Republican majority on City Council will leave no neighborhood behind.
"We invite you and we encourage you, we encourage every citizen to get involved and know that we are working for you," Jayroe said. "We will bring our city back to a thriving and financially sound city. The decisions of this council will be made thoughtfully and openly, and we look forward to the next four years as we all work together."
Jayroe is the first female and Republican to serve as mayor in the city's 293-year history. She led a ticket that flipped the majority on City Council from Democrat to Republican in November.
Jayroe, who had served a term on the council, beat the incumbent Democrat, Brendon Barber, who became the city's first Black mayor when he was elected in 2017.
Jonathan Angner, Jim Clements and Jimmy Morris also took the oath of office on Monday on the steps of the city's municipal building. Angner had previously won a special election in April to fill a vacant City Council seat.
"I am proud to be Georgetown's first woman mayor, but I am even more proud to be a part of this team," Jayroe said. "It is so ready to work for this entire city to lead us forward to a positive future."
One of Jayroe's priorities is keeping city employees in their jobs.
"I'm meeting with all department heads," she said. "We're trying to work with the employees because we've had such a turnover ratio."
Another priority is finding a new City Hall.
The city has been without a permanent home since 2016, when the City Hall near the corner of Front and Fraser streets was closed after floors and walls began to crumble. The building was eventually torn down.
City offices have been housed in a former bank building on North Fraser Street since then.
"We've got to find a place to go. That's very important," Jayroe said. "We haven't had that discussion in quite some time so it's time to hit the ground running and find a place, wherever it might be. We're not leaving any stone unturned."