Charlton bows out after failed protest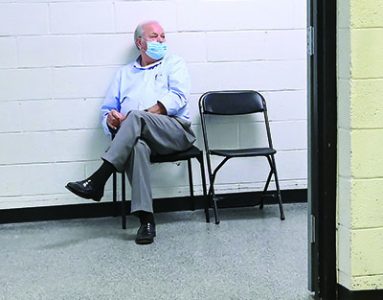 Ron Charlton waits for the start of last month's hearing on the GOP primary.
County Council Member Ron Charlton is ready to move on following his 22-vote primary loss in the GOP primary last month. He said this week he has no plans to offer any challenge to the vote that left Bob Anderson as the party's nominee in District 2.
But Charlton also said he has been contacted by people who want to mount a legal challenge to the June primaries. "I don't want to get involved in that, but there are some issues there," he said. "I'm just going to let it sit and see how all that turns out. There were a lot of irregularities."
Dean Smith, who chairs the county Board of Voter Registration and Elections, said he was not aware of any pending or threatened legal action.
The coronavirus outbreak led to precinct consolidations and prompted some veteran poll workers to stay home. But those were issues around the state, Smith noted.
In District 2, some voters said they didn't receive ballots with the council races although they live in the district. Others said they received District 2 ballots even though they don't live in the district.
Charlton, who has held the seat since 1996, appealed the result to the executive committee of the county Republican Party as required by law. It voted 11-0 to uphold the result.
Charlton could have appealed to the state party and then to the courts. He did not.
"There's more going to come of this," he said at the time, but didn't offer specifics.
In campaign finance filings, Anderson reported spending $10,000 on an attorney for the appeal. Charlton had two attorneys and said this week that he spent "a little more than twice as much."
"We could have carried it up to the state. How much money do you want to spend?" he said.
Charlton said people asked him to run as a petition candidate, although when he filed for the primary he signed a pledge not to allow his name to be placed on the ballot for the general election if he lost.
"I talked it over with the family and said, you know, how much money do you want to spend and how much time and effort do you want to put into it?" he said. "We'll just see how it all washes out with the election commission, what the complaint is. There are other people fighting that."
Anderson said he hadn't heard from Charlton, but was pleased to hear that he wasn't going to contest the result or mount a petition campaign.
"There was really nothing he could do when he decided not to go to the state party," Anderson said.
"I haven't talked to Bob," Charlton said. "I just wish him well and we'll move on."