Charter school elects six new board members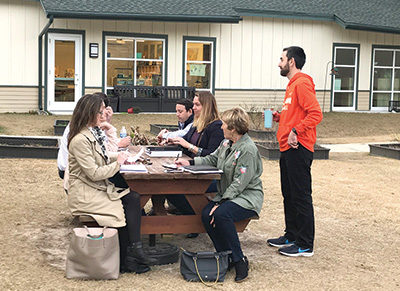 The charter board meeting outside the school in January.
There will be six new members on the board at Coastal Montessori Charter School in the coming year. The former vice-chairman is the only returning member in the election held this week.
Tyler Esterling, Paula Johnson and Carla Todd were elected to two-year terms. Kathy Redwine, Joy Burch, Kimberly Evans-Roby and Kelly Hayes were elected to one-year terms. Hayes is a current board member.
After a year in which Coastal Montessori Charter School saw its funding slashed – then restored – and its director quit, parents and staff had 21 candidates to choose from in the online balloting. Out of 297 possible votes, 142 ballots were cast.
"I think it's inspiring that so many people are running, although unusual," Joe Bowers, operations director for the Public Charter School Alliance of South Carolina, said. "It's inspiring that so many people want to make a difference."
There were concerns last year that the school would continue after the Georgetown County School District discovered it had made an error in payments to the school. It cut funding, only to have the county school board restore it months later.
In January, the director, Nathalie Hunt, resigned after the board polled staff on her performance. The board has not released the results of the poll. It suspended the search for Hunt's successor and the former assistant, Chip Hennecy, will continue as interim director.
Charter schools receive public funds, but have their own boards and are exempt from some state regulations.
Under the state's charter school law, board members are elected by the employees and the parents or guardians of its students. Families get one for each student. Employees also get one vote. Employees who have students enrolled also get one vote for each child.
Only three of the seven current board members filed to run: Hayes, Pat Gadek and Rob Phillips. Ryan Fabbri, the current chairman, said he was not going to run, but filed anyway. When he found out there was a full field of candidates, he withdrew. He received one write-in vote.
Easterling was the top vote-getter (101). She is the president of the Brandon Agency, an advertising and marketing firm. Her husband, Marshall, currently serves on the board, but did not seek re-election. Easterling also ran for the Georgetown County School Board last year, losing to the District 2 incumbent, Pat DeLeone.
Johnson (78 votes) is director of children, youth and families at The Abbey. Todd (70 votes) is an attorney with Goldfinch and Winslow. They will serve through 2021.
Redwine (64 votes) is a counselor with Redwine Counseling. Burch (48 votes) is a wellness teacher/consultant. Evans-Robey (48 votes) is a design associate with SGA NarmourWright Design. Hayes, an attorney, also had 48 votes. They will serve through 2020.
Other one-year candidates were: Todd Bird, superintendent of Waccamaw Landscaping; Keri Heck, a clinical research manager; Alisha Lemocks, a customer service manager for Practice Management Group; Melissa Nordstrom, an agent with Keller Williams Realty; John Pilot, a project manager for MIL Corp.; Jennifer Plunket, stewardship coordinator with the North Inlet-Winyah Bay Reserve; Sarah Smith, executive director of the Waccamaw Regional Council of Governments; Kristi Stephens, a mother; and Barry Taylor, a retired federal government worker.
Other candidates for both one-year and two year terms were Dawnmarie Collins, a senior executive representative of hospital accounts for Astellas Pharma U.S., and Darcie Fleming, assistant manager of Pawleys Plantation.
The results were certified by the charter school alliance, which handled the election.
The board recently changed its election schedule to reflect the state's charter school laws and the best practices of the alliance. All board members used to come up for election at the same time, which left open the possibility that an entirely new board would be elected with no experience or knowledge of the school's budget or how the school operated.
"They told us we were one of the last charter schools in South Carolina to move from one- to two-year terms," Hayes said earlier this month. "If everybody is up for re-election at the same time for a one-year term, you potentially start from scratch every single year."
With the terms staggered, half the board will be up for re-election every year. Board members will also be allowed to appoint two people with a background in things like education, business, law or finance if nobody elected to the board has this type of experience. According to the school's bylaws, half of the board must have a background in education or business.
The new members will be invited to attend the June 3 board meeting as observers. All board members will be sworn in for their terms in August.