Charter school families raise funds to aid director fired by board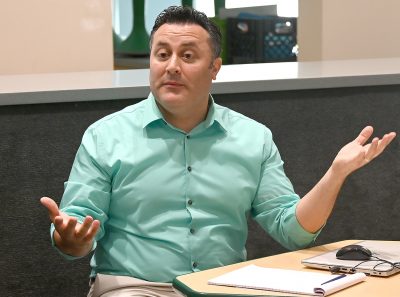 Gene Nicastro signed a non-disclosure agreement with the charter board, his wife said.
More than 100 people have donated money to help the family of Gene Nicastro, who was fired as the director of the Coastal Montessori Charter School last month.
An account set up on the Go Fund Me website raised $10,967 in four days. The goal is $15,000.
According to the page, Nicastro's wife, Tiffany, is suffering from a blood cancer and cannot work and the family's health insurance was canceled when Nicastro was fired.
In an email to the Coastal Observer, Tiffany wrote that the community deserves the truth and that her husband "did not do anything illegal, cruel, abusive, or against children" and that it was a "difference of opinion."
When reached for further comment, Tiffany said her husband had signed a confidentiality agreement and they couldn't talk about the firing.
No one from the board has commented since Nicastro's firing on Nov. 16, but the board issued a statement saying it was "in the best interest of the school."
The board, which has nine female members, may now be looking to diversify in the wake of the firing.
"Gene could have claimed there was some sort of gender discrimination against him," board member Sarah Smith said during a policy committee meeting this week.
The last man to serve on the board was Wesley Bryant, who was appointed in December 2019 after leaving his job as county attorney, and then resigned a few months later after taking a job as the deputy county administrator. Tiffany Jenkins was appointed to take his place.
There have been two elections for seats on the board in the last 18 months. This past June, all five of the candidates were female. In May 2019, only four of the 16 candidates were male.
Smith said if the board is not diverse then the student population might not be and it could affect the process of renewing the school's charter, which is scheduled to happen next year.
Coastal Montessori is a public school sponsored by the Georgetown County School District. Its charter comes from the state Department of Education and has to be renewed every 10 years.
The board is considering adding a school district employee as an ex-officio member, who would be able to give input but would have no voting rights.
Smith said it was district Superintendent Keith Price who suggested the district's liaison to the school, Fedrick Cohens, be appointed.
Price said the charter board was looking for a way to improve its ties with the district. He said the model for an ex officio board member came from his previous district, Richland 2, where a district board member serves in that capacity on its local charter school.
The change in board representation was under discussion before the charter board fired Nicastro, Price added.