Charter school parents press for details on director's departure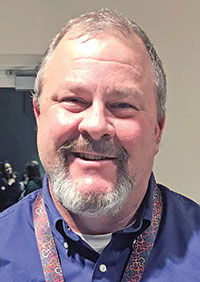 Chip Hennacy will serve as interim director of Coastal Montessori.
Two weeks after the sudden departure of the Coastal Montessori Charter School director Nathalie Hunt, parents and staff asked the school's board this week for details. About 30 people attended the charter board's meeting.
Board chairman Ryan Fabbri started off by telling everyone that Hunt's departure had "absolutely nothing" to do with the financial difficulties that began last year when the Georgetown County School District discovered it was overpaying the school.
Fabbri said Hunt notified the board on Jan. 11 of her intention to step down after six years, but they were shocked when she announced it in the school's newsletter that was distributed by email on Jan. 14. She wrote that she decided "to make this year my last" as director.
"She put it in her statement," Fabbri said. "What you know is what we know."
This week, the board issued its own statement saying Hunt's resignation was accepted "effective immediately" and saying she would serve as an "external consultant" through the end of the school year.
Hunt declined to comment on her decision at the time and could not be reached for comment this week.
Chip Hennecy, the assistant director, was named the interim director. The charter board also said it had asked the school district for help from a former administrator
Asked at the meeting when the board voted to dismiss Hunt, Fabbri said, "she wasn't dismissed. She resigned. He added that the board did vote to accept her resignation after Hunt's public statement of Jan. 14.
In response to a question about whether Hunt was paid the remainder of her salary for this school year, board member Kelly Hayes said it was "a personnel matter" and the board could not discuss it publicly.
The board was also questioned about any discussions of the school dropping the Montessori curriculum from its charter.
"This is the first I've heard about it," Fabbri said. "I can promise you that's never been discussed."
Fabbri said there isn't a specific timeline for hiring of a new director, other than wanting to have one in place when the new fiscal begins on July 1.
"We would love to have someone in place next week, but that's not feasible," he added.
Hennecy joined the staff in August as assistant director. Although he has been an educator for 28 years, this is Hennecy's first experience at a Montessori school. It was an adjustment, he said, but he likes it and the variety of teaching methods that he sees in classrooms.
"These kids are instructed, they're taught, but there's a lot of responsibility put on them," Hennecy said. "That's good at a younger age."
Hennecy said the challenge since Hunt left has been trying to keep everything as normal as possible.
"There was a lot of uncertainty and questions that haven't been answered," he said. "But I could also see that at least [the staff] was trying to keep up the normal routine, teachers were keeping students on task."
Hennecy is a Marion native. He worked at Marion High School and recently retired from Horry County Schools where he was an administrator at Conway and Green Sea-Floyds high schools.
Because he lives in Aynor with his wife, Leigh, who teaches at Aynor High, Hennecy said he's not sure if he'll apply for the director's job, unless they move closer to Pawleys Island.
"I like working in schools, but it takes a lot of time and effort, especially being at the top," Hennecy said. "I enjoyed it when I did it."
Hennecy hopes the new director is named before school ends to "finish up the year on a positive note."
The Georgetown County School Board voted in November to restore $225,000 to the Coastal Montessori budget. District and charter school officials have been meeting to arrange continued funding at the previous rate.
Charter school funding is set by a formula in state law. The district had used the wrong numbers.
The school is also losing $700 a week by providing lunch for students from the Pawleys Island Bakery instead of the school district. The charter board decided in August to leave the district lunch program and hire the bakery to provide breakfast and lunch. By December, there was a $5,000 deficit in the lunch budget and the board decided the rejoin the district program.
Brent Streett, the district's director of nutrition, said discussions with charter school officials about the district providing lunch are ongoing.
One of the challenges of rejoining the district program is keeping meals at the correct temperature. The meals are delivered to Waccamaw High, then picked up in a box that regulates the temperature and brought to the charter school. If the temperature is incorrect, the meals have to be sent back to the high school to be reheated, and then brought back to the charter school. Sometimes this happens several times a day.
Charter officials had a meeting with district officials on Tuesday about the district taking over some services to help the school cut costs. Lunch was expected to be one of the topics.
Fabbri said he wanted the school community to know that "the decisions we are making are in the best interests of the kids and the best interests of the school."