Chris Gibson sets the new goal standard for Warriors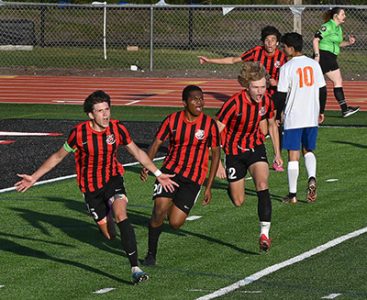 Chris Gibson, left, celebrates after scoring against Hanahan to start the Waccamaw comeback.
In a game where they scored 15 goals, Waccamaw High's 10th goal would have been easy to overlook. It was fired straight up the middle from about 15 yards out as three defenders crowded around Chris Gibson.
But his teammates stretched out their hands as Gibson walked back to the halfway line. Some of the visiting players from Darlington clapped.
What was one of 15 in the first-round playoff game, was No. 118 for Gibson and a new Waccamaw High record.
"It was a very humbling experience," Gibson said. "I'm very grateful."
He beat the record of 117 goals set by Justin Blomdahl, a 2008 grad.
"It was cool to have a young boy chasing something I had set all those years ago," Blomdahl said. "He's far more talented than I could imagine being."
Blomdahl's recollection of his final goal is a little hazy. It came in a playoff match with Wade Hampton and he left the field with a concussion that ended his season one game short of the Lower State final.
If Gibson's record-setter was obscured, it was only because it was his fifth goal in a game against a wholly outmatched opponent. He scored the opener in the second minute and completed a hat-trick in the 16th minute. His fourth goal tied Blomdahl's record by taking a short corner down the end line and netting it from the near post.
"My coach wanted me to wait and get the fifth goal until we meet a better team," Gibson said. "I said I'm not going to risk it."
In fact, ending the pursuit of the record removed a distraction as Waccamaw advanced to the second round match against Hanahan, coach Joel Sapp said.
"Hopefully, the drama's finally over," he said.
Sapp wasn't there to see the record fall. He was suspended for two games after drawing a red card in a match last week against Carolina Forest. It was a physical match, and he had objected to a lack of calls by the referees.
The new record is a testament to Gibson's skill as a center forward and to how far the Waccamaw team has advanced since Sapp himself was a player, the coach said. There were few Warriors playing club soccer during his time. Blomdahl was a club player, but said there weren't enough in his age group to form a team in his senior year.
"Our level of play has gone up so much," Sapp said.
Gibson was quick to acknowledge that he was able to set the record because it's his role to score goals and his team makes him able to do that. For the past two years, he has teamed up with Trey Jones. It's usually the two of them facing four defenders. Jones will drop down and draw defenders with him, then play the ball to Gibson.
"The wingers make it happen," Gibson said.
He actually plays on the wing with his club team in Charleston and expects to be in that position when he plays for Converse University next year.
Gibson started out as a center forward for Waccamaw in his freshman season. At 5-foot-11, he's not a true striker, he noted, but "I've always been able to use my speed." And Gibson has the poacher's instinct for an opportunity inside the penalty area.
He made an auspicious start in his freshman debut, scoring all three goals in a 3-0 win over Georgetown. He added another three against Andrews and one in a double-overtime loss to Bishop England. And then his season was over, a victim of the pandemic. Thoughts of a goal-scoring record never emerged.
In his sophomore year, he scored 38 goals in 14 games. He thought a single-season record might be possible.
"The all-time record came into play the beginning of this year," Gibson said.
Blomdahl said there was no pressure on him to set a record, but he could see it build for Gibson. "He can probably play a little more free now that he's gotten past it," he said.
For one thing, Sapp said, the team will no longer be waiting for Gibson to score. The combination of Gibson and Jones, who leads the team in assists, has propelled the Warriors to an 18-9 record.
"If they're working together, and clicking and moving, they're tough to contain," Sapp said.
Gibson got another goal in Wednesday's match with Hanahan, helping the Warriors to recover from a 1-0 deficit to win the match 2-1. Gibson's goal came on a header from a throw-in.
That scenario was repeated Friday when the Warriors beat Philip Simmons in the third round. He scored in the 73rd minute to secure the 2-1 win that has Waccamaw hosting the Lower State final on Monday.