Class of 2021 is ready to walk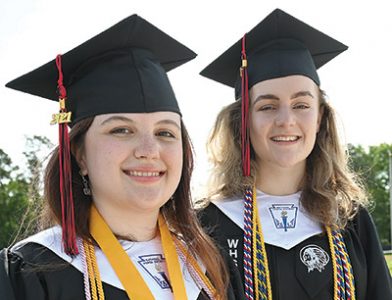 Britana Myers, left, and Meghan Lord
As the most unusual year in the history of Waccamaw High School nears an end, the members of the Class of 2021 will get their diplomas tonight.
For the second year in a row, the graduation ceremony will be held inside the school's football stadium.
While last year's seniors received only two tickets each, this year's seniors got six. In order to accommodate the larger audience, the stands on the visitors side of the stadium will be open, and chairs have been placed behind the graduates.
"We had to make some last-minute adjustments," principal Adam George said.
Ticket holders will be required to sit in groups at a social distance from other groups. Masks are encouraged, but not required. The seniors will wear masks at all times except when they're crossing the stage.
The seniors will enter the stadium from the gym, take a "victory lap" around the field and then take their seats on the field facing the stage that has been set up at the fieldhouse end.
After the speeches, students will cross the stage walking from the home sideline toward the visitors sideline to receive their diplomas. (The actual papers will be handed out in the gym after the ceremony.)
The gates open at 5:45 and close at 7 p.m., when the graduation ceremony begins. For those who cannot attend, the event will be streamed live on the Georgetown County School District Facebook page.
Top of the class: Questions for the valedictorian and salutatorian
Meghan Lord had a goal of graduating at the top of the Waccamaw High School Class of 2021.
"I'm just one of those people that I'll just do my best. If I'm not doing my best I'll feel bad about it," said Myers, this year's valedictorian. "So I guess my best is top of the class. It wasn't really a goal, but it's something I take pride in."
"Doing well in school was always a personal accomplishment and challenge for myself," said Lord, this year's salutatorian. "I wasn't as focused on what people around me were doing. I always wanted to try and do my personal best."
Myers and Lord will graduate with their classmates tonight.
Myers is the daughter of Ray and Susanne Myers. She's been enrolled in Waccamaw schools for nine years and will graduate with a 5.356 grade point average.
Myers is headed to Clemson University to study genetics.
"They have a really great genetics lab, so obviously that's a plus," Myers said. "But also, I just really like the area and it's a beautiful campus, and it's got a bunch of people I know going there."
Lord is the daughter of Trish and Dave Lord. She's been enrolled in Waccamaw schools for 11 years, including three years at Coastal Montessori Charter School, and will graduate with a 5.305 grade point average.
Lord will join her sister Marlee at the College of Charleston, where she plans to study psychology. She chose the school because she loves the city and is interested in sustainability.
"I like being in a place that has its own culture and things going on other than the school. It's a pretty cool area, and it's also close enough to home where I can come back easily but still be on my own," Lord said. "Something that's really important to me is sustainability, and it's something I want to incorporate into my education and that's really important to them there. I know they try to include that in a lot of their classes."
Myers was a member of the Academic Team, Student Council, National Honor Society and Film Club at Waccamaw High. She said she "overextended" herself at Waccamaw Middle School, so started slowly with extracurricular activities at the high school.
"Freshman year I just did Film Club and that was a pretty great thing for me because I just got to focus on being in a new school and dealing with high school," Myers said. "The more I got comfortable, the more I ended up doing. If I realize I'm getting too stressed, I figure out I need to back off and pay more attention to self-care and keeping up with my academics."
Lord was editor of the yearbook, and a member of the National Honor Society, French Honor Society and Mental Health Awareness Club. No matter what extracurricular activities she was involved in, academics was always her No. 1 priority.
"I was never one to make a huge list of extracurriculars just to have it," Lord said. "I wanted to do extracurriculars that I cared about."
Talk about the challenges of the past year due to the COVID-19 pandemic.
Myers: I've done virtual classes before, I honestly like virtual classes. That I got used to pretty quick, and I was only a virtual student so I didn't have that weird transition period like for the hybrid kids. It was honestly pretty easy for me.
Some of my classes were harder, especially math because I needed a teacher for math. It wasn't that bad. The isolation was a little bit sad, but once the pandemic started calming down a little bit more and people started getting vaccinated it was much easier to see my friends and it got better.
Lord: It definitely changed a lot of my life. I talk to my friends a lot about how strange it was to go from being in school 8 hours a day, five days a week my whole life and then it decreased very suddenly. I had a lot of time to do other things. I think I was less focused on school than I would usually be. But I was still focused on getting done what was assigned to me.
Did Waccamaw High challenge you academically?
Myers: Yes, most of the time. There's a lot of teachers here that are really good. Some parts of it have been easy. It changes from month to month, semester to semester. Some classes will be really hard the first semester and then pretty easy. It just depends on what you're personally good at.
Lord: With most schools, and Waccamaw in particular, you kind of get out what you put into it. If I wanted to, I could have not tried and made it through OK. But, the people who do well are the people who push themselves and seek out the challenges, and they were available to me to challenge myself.
Talk about a subject you struggled with.
Myers: This year, calculus. But otherwise it's more like units I have struggled with. My teachers have all been pretty much awesome and helped me through it, so I can't say there's one particular subject.
Lord: Math. I've always been much more of a language, English, social studies kind of person more than the math and logic stuff. I was still able to do well in those classes, but it was a lot more for me to wrap my head around because I've never been great with numbers. Basic arithmetic takes me awhile, and that was frustrating for me in a lot of math classes.
Who is a teacher, or teachers, who made a difference anytime during your schooling?
Myers: Sharon Bray and Bradley Kibler.
Hearing about her retirement really messed me up because she was such a staple of my life even before I had her as a teacher. Mr. Kibler is my Academic Team coach, and he was my teacher sophomore year. He's just a really good dude. They both really had a big impact on keeping me going and furthering my goals.
Lord: Jessica Smith.
She's just a great person, and we've gotten really close throughout all the time we've spent together through this. That made a big difference of having that relationship with a teacher I can feel comfortable with. Even though I'm a very academic person, my non-academic classes really meant a lot to me because that's where I was able to learn those other skills of leadership and design, and different stuff like that that I didn't get out of my academic classes.
What surprises you when you look back at your years at Waccamaw High?
Myers: It wasn't as bad as I had pictured high school to be from movies and stuff. It was honestly pretty tame. It was just a good experience overall.
Lord: When I started high school I was a lot more shy than when I came out at the end of it. So what surprises me is the relationships I was able to make with my classmates that I just never would have talked to before high school. I've become more comfortable talking to new people.
What's your best advice to incoming freshmen?
Myers: Don't overwork yourself, because it's really easy to fall into that hole. Do your best, and don't be afraid to fail, but also don't push yourself past where you need to be.
Lord: Don't get too wrapped up in the work. It's important to try hard and challenge yourself, because this is the time when you're figuring out what you're interested in and what you're good at.