Commission ready to bid Hammock Coast farewell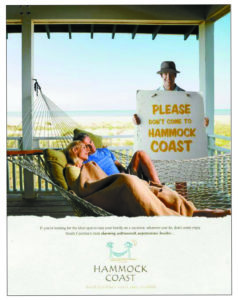 Not many locals think they live on the Hammock Coast and the people in charge of spending money to market the county want to know if non-locals even know where the Hammock Coast is.
The fate of the Hammock Coast brand was a hot topic at the monthly meeting of the Tourism Management Commission late last month.
David McMillan was on the commission when the brand was introduced. He said commission members couldn't agree on a brand so they "settled" for Hammock Coast.
"There was nothing that blew anybody away," he said, adding that locals have never bought into the brand.
"I don't think the reaction to the brand has changed much," said commission member Bob Jewel.
Hammock Coast was the brainchild of Rawle Murdy Associates of Charleston and approved by the commission in 2010.
Helen Benso, who chaired the commission, was the only one to vote against it.
"Branding is a very subjective thing," she said at the time. "I wasn't crazy about it, but other people were and the important thing is just to move forward as quickly as we can."
Commission member Will Dieter questioned why many of the Hammock Coast ads don't mention South Carolina, or specifically, Georgetown County. For the amount of money the county spends on marketing the commission needs to know if the brand works, he added.
McMillan said if the brand had really caught on, everybody would be selling Hammock Coast T-shirts.
Jewel and Bob Seganti, who now chairs the commission, agreed that it was time to move on from Hammock Coast. Jewel suggested surveying visitors about the brand.
"We're all in consensus that it's not the most telling logo or brand," Jewel said. "The best way to learn is to talk to your customers."
Jennifer Norman, the county's tourism development director, said the commission cannot use some of the accommodations tax money it gets from the state to pay for a survey of visitors.
Norman has always liked the brand. "I think the Hammock Coast has legs."
What she would like to see is new print ads since some of the ones being used are five years old.