Competition grows for boat builders using a different form of wood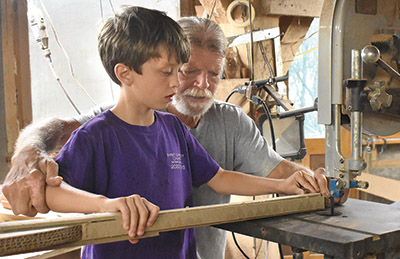 Henry Culberson helps his grandson, Henry Thomas Swinnie, cut a part of their cardboard boat.
During last year's Wooden Boat Show, Henry Culberson debuted his hand-crafted, solar-powered Greta T boat.
This year, the Hagley resident is working with his grandsons – Henry Thomas Swinnie, 7, and Barrett Swinnie, 6 – to create a replica of the Greta T for the event's corrugated boat regatta.
"We like my granddad's boat, so we thought we could make a copy of it," Henry Thomas said.
Culberson's plan is to teach the boys how to build a corrugated boat so in a few years they can start helping him build wooden boats.
Henry Thomas has already mastered his grandfather's band saw.
"He has an eye for it," Culberson said.
The 33rd annual Wooden Boat Show kicks off Saturday on Front Street in Georgetown. Saturday's highlight will be the Wooden Boat Building Challenge from noon to 4 p.m., followed by the rowing race at 5 p.m. Exhibits are open from 11 a.m. to 6 p.m.
The show continues on Sunday from 11 a.m. to 4 p.m.
Participants in the corrugated boat regatta have from 11 a.m. to 2 p.m. to build, or put the finishing touches on, their boats. The regatta begins at 2:30 p.m. There is also an Opti Pram regatta featuring sailors ages 8 to 12 from the S.C. Maritime Museum's youth sailing program.
A new entry in this year's corrugated boat regatta are S.C. United Turtle Enthusiasts volunteers from DeBordieu.
Jim Heath, a DeBordieu resident, designed and built a boat in the shape of a turtle that measures about 4 feet by 7 feet.
"It should float fine. It's got four layers of cardboard and it's been painted and taped," Heath said. "It would probably sit in the water for a few hours without sinking I would hope."
"It's huge and it's a turtle," said Betsy Brabson, who oversees the volunteers. "I think it's going to be fun. I just hope it doesn't sink."
The race is just another way to do educational outreach about sea turtles, Brabson added.
"We need to be in our SCUTE shirts and we need to talk to the crowd and people that come by," she said. "We need to talk up what we do and the significance of the boat."
The two-man team behind the Handyman Hal channel on YouTube – Jason Wheeler and Shawn Goins – are building a corrugated boat that's more of a raft with a large safety cone on the back.
"Handyman Hal is all about safety," Wheeler said.
Wheeler believes the key to success in the regatta is to not jump from the dock into the boat.
However, he admitted that he wouldn't be sad if Goins, who will be alone in the boat, sank, as long as he was OK.
"I kind of do want him to sink, in a funny way," Wheeler said.
The plan is to have cameras on Goins' head, on the boat pointed at Goins, and onshore. Wheeler and Goins will then edit all the race footage together with footage from the two days of the show and post it on their YouTube channel.
For a full schedule of events, go to woodenboatshow.com.