Corps will move forward while town seeks beach easements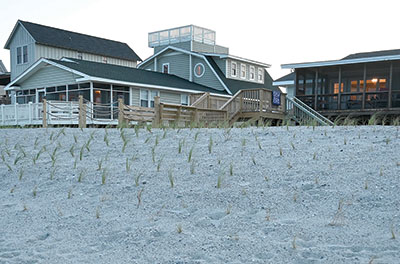 Two property owners who are opposing the easement planted dune grass last year. The Corps of Engineers will plant the rest of the dune this year.
A Circuit Court judge last week denied the town of Pawleys Island the chance to fix flaws in the process it used to condemn easements for beach renourishment. That means the town is likely to need to start from scratch to obtain the last three of 113 easements needed to allow the Corps of Engineers to share in the cost of future renourishment and repair major storm damage.
But the Corps will move forward with planting vegetation and installing sand fence along 1.4 miles of beach on the south end of the island. That's the area with enough public access to qualify for federal funding.
Mayor Brian Henry announced the Corps' decision to property owners in an email last week, the same day Judge Michael Nettles denied a motion to reconsider his ruling in three lawsuits challenging the town's effort to condemn easements.
If the town hasn't acquired all the easements by the time work begins, probably in August, the Corps will skip those lots, said Administrator Ryan Fabbri.
Nettles granted summary judgment in January to the property owners – Frank Beattie, Barry Stanton and Sunset Lodge LLC – saying that "the defects in the way the town went about initiating and pursuing its condemnation action require the action to be invalidated, dismissed and prohibited."
The town asked the judge to reconsider. It asked him to give the courts the opportunity to weigh the merits of lawsuits by the property owners who have challenged the condemnation and postpone a decision on whether the town must pay for their legal fees, according to filings last week by the new attorney representing the town.
The hearing was held online and Nettles ruled from the bench, Fabbri was told by Will Dillard, whom he hired last month to handle the condemnations.
No written ruling has been filed. The hearing was not listed in the court index, although the three suits are still scheduled for a hearing next week on an effort by the town to obtain billing records for Stanton, an attorney who is representing himself and two neighbors.
Stanton requested over $100,000 in fees for his clients, but none for himself, which he has argued in court filings is a bargain for the town.