Council asked for ban on tents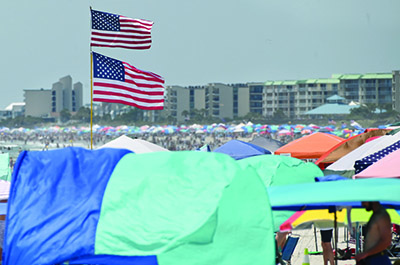 Tents at North Litchfield and Litchfield by the Sea on the Fourth of July.
Les Pitzer started trying more than a year ago to get somebody to do something about tents on the beach.
"It obstructs and prevents others from enjoying the view of the beach and the ocean," the Tradition Club resident told Georgetown County Council this week. "The tie-downs are trip hazards."
Pitzer now has the attention of county officials, who say they are looking into the issue. Tents are banned on beaches in Horry County.
"I didn't want to bring 100 people to the meeting to present this thing," Pitzer said after the meeting.
He first approached the board of Litchfield by the Sea Community Association about the issue. The board met with former County Council Member Steve Goggans in the fall of 2021. He suggested that they work with the county Parks and Recreation Department.
A year ago, the association board decided the county was not going to ban tents just at Litchfield by the Sea and it wasn't going to pursue the issue.
Pitzer said he met with Beth Goodale, the Parks and Recreation director, but nothing came of it.
"Tell me what steps I need to get this thing moving," he asked the council this week.
Council Member Stella Mercado, who took Goggans' place this year, said she was familiar with the issue from a meeting with the Litchfield by the Sea group last summer. That was before she was elected.
"A group of people brought that up as a concern," she recalled.
After listening to Pitzer this week, Mercado said she would do some research and talk with Goodale.
Goodale recalled meeting with Pitzer and said she told him a change to the beach ordinance would have to come from County Council.
"Is it an issue? I don't know," she said. "We were having horrible issues with tent frames being left out there."
That problem seems to have gone away even though the number of visitors has increased, she added.
But Goodale said she would look at what other beaches, particularly those in Charleston and Beaufort counties do.
The tent bans in Horry County were driven by concerns that they were blocking the view and access for lifeguards, said T.L. Staub, a former deputy sheriff who now works on special projects for Parks and Recreation. He wasn't aware that the Georgetown County Sheriff's Office beach patrol had problems getting around tents.
Any discussion of a ban would have to include the sheriff's office, Goodale said.
Pitzer didn't hear any objections to a tent ban at the Litchfield by the Sea meetings, which had 80 or 90 people. "They were all for this," he said.