Council looks beyond its borders for new administrator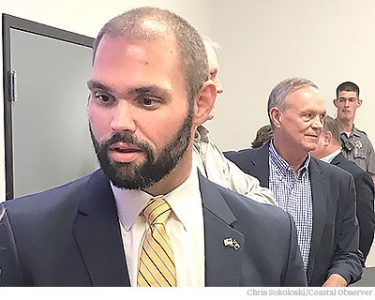 David Garner was picked to replace Sel Hemingway, at rear, who will retire Dec. 31.
Citing a need for a new perspective, Georgetown County Council voted this week to hire the next administrator from the midlands.
David Garner, 34, director of Abbeville County will start contract negotiations following a 4-3 vote. He was hired over Ray Funnye, the county Public Services director, and Brian Tucker, its Economic Development director.
"The discussion centered on who would move Georgetown County into the future," Council Chairman John Thomas said. "I'm optimistic. I think this is going to work out well for the county."
Thomas cast one of the three votes against Garner. He was joined by Council Members Lillie Jean Johnson and Louis Morant.
Funnye, who has worked for the county for 27 years, was seen as the front-runner following the release of an email by Thomas naming him as his top choice.
"Ray is a great guy," Council Member Steve Goggans said. He voted along with Council Members Everett Carolina, Ron Charlton and Raymond Newton to offer the job to Garner. "David brings a strong background in finance," Goggans added.
Garner told the audience at a reception for the three finalists last week that his top goal will be a balanced budget. In Abbeville, "I've focused on conservative revenues, but we've also managed our expenditures. Sometimes that's a tough thing to do," he said.
Goggans noted that Abbeville used to have to issue tax anticipation notes, but now it has a surplus and doesn't have to borrow.
Newton, who used to work in human resources for UPS, said the council's 90-minute discussion of the candidates behind closed doors was "a very spirited debate." It was also "respectful," he added.
"If it was a horse race, it would have been a photo finish," Newton said.
Garner is someone with vision who can energize county government, Newton said. "We need new blood from the outside," he said.
Garner is a native of Anderson. He told the audience last week he was the only child of a broken home and was raised by his grandparents. That upbringing include summer visits to Georgetown County. Now married with five children, "this has been a dream of mine," he said of the opportunity.
He worked as a paramedic then as a regional manager for the state Emergency Preparedness Division. Along the way he earned an undergraduate degree and a master's degree in public administration.
Garner became director of Abbeville County in 2017. In Georgetown County, "my goal is to invest in my employees," he said. He will also try to build trust among citizens.
Council's hiring process was criticized before this week's vote by Marvin Neal, the local NAACP president.
"The process is skewed through an email" from Thomas, he said.
After reading the email to council last month, he said it showed "lack of integrity."
He told council this week the email came from a Freedom of Information Act request. He later acknowledged it was sent to him by Carolina.
Records show it was sent to Neal by Carolina the morning after it was received from Thomas. Neal filed an FOIA request 10 days later for nine months of council emails.
Carolina's response to Thomas was that he also had a list, but would present it at a council meeting the next day.
"To claim that skews the process makes no sense," Thomas said.