Council member departs, leaving bike path funds behind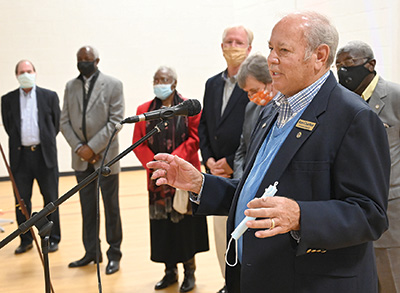 Ron Charlton with his council colleagues at a reception before his final meeting.
Ron Charlton left this week's County Council meeting with a summary of the annual audit and a proclamation thanking him for 24 years of service tucked under his arm.
"Of course, I'll miss the people I serve with," he said. But he will also miss being involved in the business of Georgetown County.
Charlton lost his bid for re-election to a seventh term in Council District 2 in the GOP primary in June. Bob Anderson, who served one term in District 6 and later moved, defeated his former colleague.
Teresa Floyd, the clerk to council, remembered Charlton's first council meeting in January 1997. It was her first meeting, too, she said.
Floyd said Charlton was always concerned about the welfare of county employees. He was also willing to listen, even if an issue was raised by someone outside his district, she said.
One of Charlton's last acts on council was approving funds from the capital improvement plan to complete a long-awaited portion of the Bike the Neck route, even though the project isn't in his district.
The county had $1 million for each of the seven council districts. Charlton allocated $200,000 to an update of the Midway Fire and Rescue station in DeBordieu. The balance will be combined with funds from District 6 to replace the sidewalk on Waverly Road with a bike path from Waccamaw Elementary School to Highway 17 and to build a bike path along Petigru Drive that will connect to Stables Park.
"Ron has been a big supporter of bike paths," said Council Member Steve Goggans, who represents District 6.
The Waverly Road path is estimated to cost $770,000. The Petigru Drive path, from Waverly to Martin Luther King Road, is estimated to cost $1.1 million. When completed, the Bike the Neck route will run from the South Causeway at Pawleys Island to the Horry County line in Murrells Inlet.
The bike path is one of several capital projects that the county developed during Charlton's tenure. The first phase was paved shortly after he took office. He said he was pleased to think it was going to be completed with his help.
"We've seen a lot of changes," he said.
He attended his first meeting in the courthouse annex, space that was later converted into offices. The council moved into what had been the main courtroom after the county completed a judicial complex as part of its capital plan.
Charlton was only the second Republican on the council when he was elected. Four of the seven members are now Republicans. But he said politics always took a back seat to cooperation.
The county was able to expand its facilities by working with the school district, which passed a bond referendum the same year he took office. Charlton said that led to acquiring land for Retreat Park and the Waccamaw Library as well as creating space for recreation facilities and the sheriff's office.
"We all worked together," Charlton said.