County backs legislation to keep free parking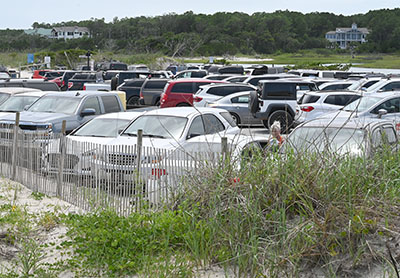 The county owned lot on the south end of Pawleys Island is the largest free beach parking lot in the county.
A bill in the legislature that would prohibit beachfront towns from charging for parking without permission from the state gained support from Georgetown County Council this week.
The bill, which was introduced in response to parking limits imposed in Charleston County during the pandemic, passed the Senate unanimously and is now up for debate in the House. It would require municipalities to get approval from the Department of Transportation before restricting or altering state highways. They must provide free parking, but can charge for parking if the revenue is used for beach renourishment, maintenance or law enforcement.
The town of Pawleys Island has discussed paid parking on the roadside and at beach accesses as a way to raise revenue for future beach renourishment. The idea got a mixed reception from island property owners.
"It didn't look like they were anywhere close to giving it serious consideration," Town Administrator Ryan Fabbri said. "I don't think it affects us much."
Only one of the municipalities surveyed by the state Revenue and Fiscal Affairs Office currently has paid parking. The town of Folly Beach collected $444,000 in fiscal 2020, the office found. It used the money to maintain facilities along the beach.
The bill also increases the penalty for people who obstruct the right of way on state roads. Currently $100, the fine would become $100 a day.
County Council Member John Thomas, a former president of the Litchfield Beaches Property Owners Association, said obstructions in the right of way are an ongoing issue, but one that DOT has rarely addressed.
"I don't think there's any problem with people finding parking, at least here in North Litchfield," he said.
On Pawleys Island, there is an 80-foot right of way on much of Atlantic Avenue that is occupied by landscaping.
"I don't think people understand the amount of public right of way on Atlantic Avenue," Fabbri said. "It's really DOT's authority to enforce that."
While the bill was prompted by Charleston County, Council Member Steve Goggans said public beach access is a growing issue for Georgetown County.
"We need to be thoughtfully planning and considering what we're going to do about beach access," he said. "We have a very limited area of beach in Georgetown County. We have a lot of people coming in as well as living in the county."
The resolution just affirms the county's support for public access, Goggans said.
"We have been asked to join with other local governments along the coast," County Administrator Angela Christian said. "Public access points are free and open to all the people of South Carolina."