County continues mask mandate through late April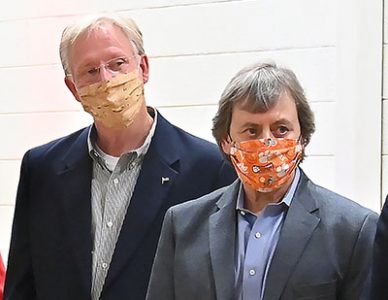 Council Members Raymond Newton, left, and Steve Goggan opposed the extension.
Face masks will be required in public places until the end of April after Georgetown County Council passed what officials expect will be the final extension of an emergency ordinance this week.
The 5-2 decision followed a plea from three residents to end the ordinance and criticism from Council Member Raymond Newton that the county mandate was meaningless because people who are at risk have the sense to wear masks.
The county required face coverings in restaurants and stores in July when it reauthorized its emergency ordinance. Newton cast the only dissenting vote, although he did vote one time to extend the emergency ordinance.
"I've been against the mandate since we first started it," he said. "The residents of Georgetown County are smart enough to wear masks without us having to tell them."
He told his colleagues this week that two of his family members have died of COVID-19. "Both of them wore their masks," he said.
Newton also wears a mask. He said afterward that another objection to the ordinance is that it isn't enforced.
When the mask mandate was first adopted, business owners said it would help them enforce the requirements.
Council Member Steve Goggans, who had COVID-19 last month, also voted against extending the mask mandate.
He noted that Gov. Henry McMaster recently lifted the state's coronavirus restrictions.
Goggans said businesses can still require customers wear masks.
Council Member Everett Carolina said the mask requirement isn't any more onerous than a policy that requires customers to wear shoes and a shirt inside a business.
"My position is to err on the side of caution," he said.
Although there are now three vaccines available to the state and an increasing number of doses administered, Carolina said he is concerned about the potential impact on COVID-19 cases from public schools returning to five-day in-person learning.
College students on spring break are another concern, Carolina said.
Brandon Ellis, the county director of Emergency Management, said extending the ordinance until April 27 will allow the county flexibility as it prepares for all staff to return to work at county facilities on April 1. He called it a "soft opening."
Georgetown is one of nine counties in the state with a mask ordinance, according to the state Emergency Management Division. Charleston and Beaufort are among them.
Horry County doesn't have an ordinance, but the cities of Myrtle Beach and North Myrtle Beach do.
Newton questioned whether the coronavirus cases were worse in the counties without an ordinance.
Ellis said Georgetown County has lower numbers.
"A lot of the data is rather subjective," Council Member Bob Anderson said.
He said it's important to know how many of the most vulnerable people, those age 65 and above, have been vaccinated.
Ellis said about 80 percent of the vaccines given out by the start of the week had gone to that age group: 9,600 doses.
Anderson, who voted to extend the requirement, said he would like a target for vaccinations that would let the county end the mandate.
"I'm looking forward to the day we can lift this thing," he said.
Tom Dunn, a Litchfield resident, told the council it should have already lifted it.
"You're on some very shaky legal ground," he told the council, citing a state attorney general's office opinion. "Not to mention pushback at the voting booth."
Dr. Steve Garman of Georgetown, who is board certified in internal medicine, told council "we should lift the mandate."
Tommy Morgan, interim county attorney, told the council that the emergency ordinance and mask provision comply with the state's home rule law.