County Council lets mask mandate expire quietly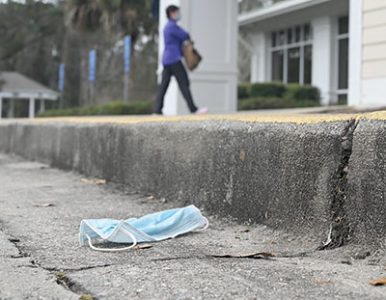 The mask mandate expired 300 days after its was first approved by County Council.
An emergency ordinance that required people in Georgetown County to wear face coverings in shops and restaurants expired without a bang or a whimper this week, 300 days after it was adopted by County Council.
"We just let it roll on out," Administrator Angela Christian said. "The numbers are down."
The mandate was extended last month by a 5-2 vote, but set to expire at midnight on April 27. The county began reopening its offices to the public and all staff on April 1. Those offices are now open without a mask requirement, Christian said, although people are encouraged to wear them.
As of this week, 27,582 county residents – just over 52 percent of those eligible – had received at least one dose of COVID-19 vaccine.
"You can't believe all the emails and phone calls I've been getting," Council Member John Thomas said. Many of those came from the Murrells Inlet area and urged him to vote to lift the mask mandate.
No one called to say they wanted the mandate extended, he said.
"I would have voted to discontinue it," Council Member Steve Goggans said. He voted against the extension last month.
He said the response from businesses, including restaurants has been "kind of mixed."
When the mandate was adopted in July, it had support from businesses polled by the Chamber of Commerce.
"I thought by putting a mask mandate in there, it would give business owners a backup," Thomas said.
Some business owners still liked that feature, Goggans said.
"I think you'll still see posters on the doors," he added.
"Older people still want to wear a mask," Council Member Bob Anderson said.
He supported the extension, but following the vote he asked Brandon Ellis , the county Emergency Management director, for a outline of when the mandate would be lifted. He didn't receive one, but saw that the emergency ordinance was not on this week's council agenda.
Following the expiration of the emergency ordinance, the county library system revoked its own mask requirement and limitation on the library occupancy. The library trustees delegated that authority to the director, Dwight McInvaill, but reserved a decision on reopening meeting rooms until its next meeting, scheduled for May 20.
The libraries are also expanding their hours. The Waccamaw and Georgetown branches will be open from 9:30 a.m. to 6:30 p.m. Monday through Thursday and 8:30 a.m. to 5:30 p.m. on Friday and Saturday.
The county's decision also prompted people to contact the school district.
"My email has blown up," said Alan Walters, the district's director of safety and risk management. "We've had a lot of contact from parents."
The district is still requiring masks under an order from the state Department of Education.
"The order is still in place," Walters said. "Nothing changes for us in that regard."
He noted that even if the state changes the order, school buses fall under a federal mask order that applies, among other things, to public transportation.
Dr. Brannon Traxler, director of public health for the state Department of Health and Environmental Control, said the state is following the recommendations of the U.S. Centers for Disease Control and Prevention, which said this week that vaccinated people do not have to wear a mask indoors or outdoors when with a small group of other vaccinated people. Vaccinated people should still wear a mask when spending time with large groups of unvaccinated people, whether indoors or outdoors.
DHEC followed the lead of the federal government on Friday and restarted the distribution of the Janssen vaccine, which had been put on hold temporarily after a handful of people experienced blood clots after getting vaccinated.
Traxler said the demand for all three vaccines – Janssen, Moderna and Pfizer – has fallen "well short" of supply this month.
COVID-19 is still here and people are still being infected, she added.
"Now is not the time to take our foot off the gas," Traxler said.
She encouraged people who may have only gotten the first shot of the Moderna or Pfizer vaccines to get their second shot, even if the recommended three weeks between shots had already passed.
"Any time is better than no time," Traxler said.