County in line for state funds for port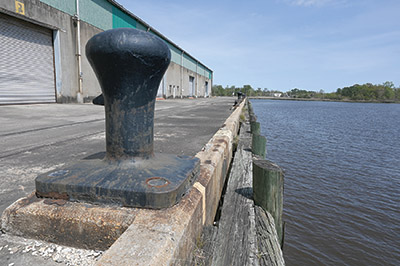 The cost of work on port facilities is estimated at almost $14 million.
Along with taking title to the port of Georgetown this month, Georgetown County is due to get $2.5 million to repair or demolish portions of the aging facilities. The money is part of over $13 million for projects in the county included in the state budget that is now before House and Senate negotiators.
"I don't see anybody getting upset about any of those projects," state Rep. Lee Hewitt said, although he cautioned that nothing is guaranteed. "It will be interesting to see the conference report and see what all is in there."
Hewitt introduced legislation last year to transfer 250 acres on the Sampit River from the State Ports Authority to the county by June 30. Engineers hired by the county found $13.8 million in "structural deficiencies."
It was discovered this year that the ports authority had funds allocated for the facilities that was never spent. This year's budget bill allows the county to keep that money, then buy the 210 acres that are designated as a spoils site for $1.5 million and keep the difference.
"That will give the county $2.5 million for the port property to get it ready," Hewitt said. "This was money that was designated to go to the port for improvements."
Also in the budget is $10 million for dredging in Murrells Inlet that is proposed to remove between 590,000 and 730,000 cubic yards of sediment from the channels.
"That will give us roughly $14 million to go to that project after the permitting," Hewitt said.
The county is seeking federal permits to dispose of silt at offshore sites. The Corps of Engineers will pump sand onto the adjacent beaches.
While a request for dredging funds was cut from last year's budget, "it's my understanding that it's not going to get cut" this year, Hewitt said.
The town of Pawleys Island is included for $250,000 to fund drainage work that was part of a sea level rise adaption plan completed last year.
And there is $190,000 for a parking area that will provide access to the Bike the Neck path at the south end of Business 17. The project received $325,000 in last year's budget for parking on a section of road where the state Department of Transportation posted No Parking signs in 2020. Georgetown County came up with a plan for dedicated parking, but bids for the work came in above estimates.