County lets short-term rental ban expire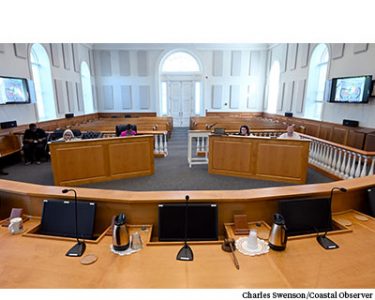 County Council met by video conference, with staff participating from the council chambers.
Georgetown County let its month-old ban on short-term rentals expire this week, catching the town of Pawleys Island off guard. The Town Council extended its ban for another two weeks.
"All I really wanted was for us to be on the same page," Town Administrator Ryan Fabbri said. "Clearly that did not happen."
Town Council will meet Thursday afternoon to consider lifting the rental ban to coincide with the county. "It's a problem if there's a prohibition on rentals in the town and everyone around us is open for business," Fabbri said.
Pawleys Island and Georgetown County adopted bans on rentals under 30 days on March 27 in an effort to help slow the spread of the coronavirus. Both were set to run through April 30.
Town Council met Monday and agreed to reopen public beach accesses on May 1.
"Opening beach access is one thing," Mayor Brian Henry said. If there are problems with crowds, "we can close them."
That wouldn't be the case with vacation rentals. "I like the idea of waiting," he said.
The town also expected Gov. Henry McMaster to extend the state of emergency for another 15 days, which he did hours later. That included a ban on renting accommodation to people who come from "hot spots" of COVID-19 cases.
Extending the rental ban would give the town time to assess social distancing on the beach and follow the trend in confirmed cases of COVID-19, Henry said.
Council Member Ashley Carter said that would also give vacation rental companies time to prepare.
The town receives about half of its revenue from local and state taxes on vacation rentals. The state tax revenue is earmarked to repay a loan that helped finance the beach renourishment project the town completed in March.
"Getting [rentals] open as soon as it's safe is the best thing we can do for the town's economy and the local companies as well," Council Member Rocky Holliday said.
The council voted to extend the ban through May 14.
"I was led to believe the county was on board with May 15" for resuming short-term rentals, Fabbri said.
But the County Council didn't take up the issue when it met the following day to roll back its opening of beach accesses from May 15 to May 1.
Council Chairman John Thomas said before the meeting there were no plans to extend the rental ban.
With the county ban due to expire, the phones have been ringing at real estate offices.
"We've talked to a lot of people who got kicked out in April," said Jimmy Smith, owner of James W. Smith Real Estate in Litchfield. "Everybody's trying to get down here sometime in May."
Although his office is still closed to comply with the governor's order on public gatherings, he said his staff is dealing with customers through a window.
Most of the vacationers are coming from other parts of South Carolina, Smith said. "They're not coming from the hot spots," he added.
Fabbri said it is now hard for the town to justify its rental ban. "It's not really effective. It ends up having the opposite effect," he said. "It becomes almost a punishment."