Deal finds $638K in bike path funding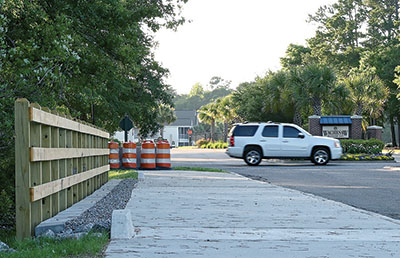 The first phase of I2I was completed last year to Old Kings Highway.
An extension of the I2I bike route in Murrells Inlet is getting top priority for federal funds as part of a compromise among the officials who allocate money for regional transportation projects.
The Inlet to Intracoastal project sponsored by Murrells Inlet 2020 will get $638,000 over two years if its application receives approval next month from the Grand Strand Area Transportation Study policy committee. The money will come from funds allocated through the federal highway bill for alternative transportation projects.
The funding amounts to all the money available to the region for such projects for the next two years, said Mark Hoeweler, executive director of GSATS.
The project is being recommended to the policy committee in order to win approval to shift funds awarded in 2014 to the city of Georgetown to a project in Horry County. That money, $628,000, has to be allocated before the end of the federal fiscal year on Sept. 30.
The Georgetown project fell victim to changes in city administration and its inability to provide a 20 percent match. Horry County came up with a plan to use the money for a bike path in Little River. That was up for approval by the GSATS policy committee last month. The vote was delayed when state Sen. Stephen Goldfinch, who chairs the committee, said he wanted to keep the money in Georgetown County.
Goldfinch is pleased with the compromise.
"I think it's a good deal. I think a better deal would have been for somebody at the county to recognize the problem," he said.
Hoeweler said he notified local governments last year that the Georgetown funds would be available. Boyd Johnson, the Georgetown County planning director who is part of the GSATS study committee, said he only learned about the money this summer.
"It was an unfortunate series of miscommunications," County Council Chairman John Thomas said.
County Council approved the I2I funding application this week. The council wasn't told that the funds were part of a deal worked out by the GSATS staff rather than from the money awarded to the city.
The federal funds require a match of $160,000. The council was told those will be provided by Murrells Inlet 2020.
"We were told that there's an anonymous donor who's willing to chip in a large amount of money," Thomas said.
The first phase opened last year from Business 17 to Old Kings Highway. Surveys and engineering work have been done to extend the path to Wachesaw Road and the Intracoastal Waterway. The cost is $2.2 million.
Goldfinch said he's seeking a $1 million donation from the contractor.
That would have helped had the inlet project gone through the usual ranking process, Hoeweler said. Not everyone is pleased that it got priority, he added.
"We leveraged the money we could get," Goldfinch said. "I don't expect any problems."