Delegation faces split on board nominations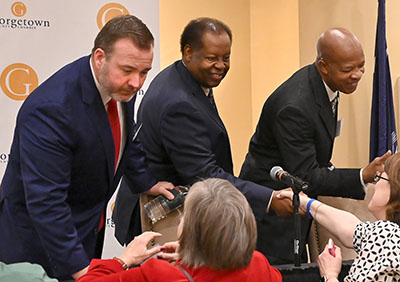 Sen. Stephen Goldfinch, left, Rep. Carl Anderson, and Sen. Ronnie Sabb in 2020.
Even a virtual meeting can't disguise the empty seats when the Georgetown County Water and Sewer District board meets.
"We could stand a couple of new board members," Bill Schwartzkopf, who chairs the board, said after this month's meeting.
"We seem to be a little short," Ray Gagnon, the district's executive director, said.
The board that is responsible for providing water to nearly 25,000 customers around the county is down to three members. It has been a steady decline over several years, but one that local lawmakers hope to reverse this month.
The district's board was already short one member when Louis Morant resigned after he was elected to Georgetown County Council in 2018. Doc Lachicotte resigned last year after being told he would not be reappointed at the end of his term and Richard Heath resigned after moving from Murrells Inlet to Charlotte.
Faced with having only three out of seven members, the board amended its bylaws before Heath left to specify that a quorum consists of a majority of its serving members. Without that, the board would not have been able to meet at all.
The utility is a state special service district created by the legislature. Board members are appointed by the governor based on recommendations from the county's four-member legislative delegation.
"We've been struggling with trying to have meetings," said state Sen. Stephen Goldfinch, a Murrells Inlet Republican who chairs the delegation.
A meeting is currently planned for March 29.
The water and sewer district isn't the only board with vacancies, said state Rep. Lee Hewitt, a Republican from Murrells Inlet. He said there is a seat to fill on the county Election Commission and possibly the County Transportation Commission.
"We're going to have an issue on the Election Commission. Carl wants to appoint Jaime Sanderson," Goldfinch said, referring to state Rep. Carl Anderson, a Georgetown Democrat.
Sanderson is a former chairman of the county Democratic Party.
"I don't think the Election Commission needs to be partisan in any way, shape or form," Goldfinch said. "It's just going to devolve into a partisan hack show."
Anderson could not be reached for comment.
The fourth member of the county delegation is state Sen. Ronnie Sabb, a Williamsburg County Democrat.
"I've told them we need to have a real discussion on this issue," Goldfinch said.
The outcome could affect the water and sewer board nominations. A 1999 decision in federal court said the votes by the state legislative delegations had to be weighted according to the share of the population represented by each member. That would give Sabb and Anderson the deciding votes.
The water district has 24,622 customers, 70 percent of them are on the Waccamaw Neck, which is represented by Goldfinch and Hewitt.
"There have always been three members from the western part of the county and four from Waccamaw Neck," Schwartzkopf said. That isn't written down. "It's just the way it's been done."
"Traditionally, we like to support each other's appointments," Goldfinch said.
But that could change. The Election Commission vote threatens to make the delegation appointments regional and partisan, he said.
And there is another complication. Since the retirement of the long-time delegation secretary, Paulette Radcliffe, the delegation has been trying to compile records of its appointments.
"There's no real record-keeping," Hewitt said.
Radcliffe was also a deputy coroner and worked in both the coroner's office and the delegation office. Her successor has done the same.
"It's a tradition I don't like very much," Goldfinch said.
The county funds the delegation office at a cost of about $20,000 a year. A call to the office this week asking for information about the commissions was not returned.