Delegation gathers after 2-year hiatus only to set new meeting date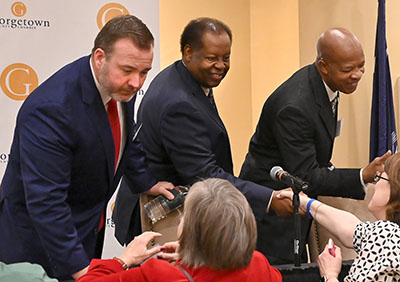 Sen. Stephen Goldfinch, left, Rep. Carl Anderson, and Sen. Ronnie Sabb in 2020.
The Georgetown County legislative delegation met this week for the first time in two years only to delay its meeting for another week in the face of complaints that the meeting violated state law.
"It's ridiculous," said state Sen. Stephen Goldfinch, the Murrells Inlet Republican who chairs the four-member delegation.
He called the meeting for Monday afternoon in his law office at Pawleys Island. The state Democratic Party issued a statement hours earlier condemning the meeting as a violation of ethics and open-meeting laws. The Democrats accused Goldfinch of being unwilling to meet with the delegation's Black members.
"What is Goldfinch hiding?" Trav Robertson, the state party chairman, said in a statement. "Is he afraid to meet publicly with the African American members of the delegation to discuss appointments?"
The delegation has vacancies and expired terms to fill on eight boards and committees. That includes four vacant seats on the seven-member board of the Georgetown County Water and Sewer District, which had to change its bylaws in order to hold meetings with just three board members.
"It was very strange today," state Rep. Carl Anderson, a Georgetown Democrat, said after the brief meeting. He and the other Democrat on the delegation, state Sen. Ronnie Sabb a Democrat from Greeleyville, are Black.
They talked briefly with Goldfinch about the Democratic Party's complaint and the need to reschedule.
State Rep. Lee Hewitt, a Murrells Inlet Republican, arrived and they decided on April 5 at noon in the Howard Auditorium in Georgetown.
Goldfinch and Anderson, who is the senior member of the delegation, disagree about where the fault lies for the two-year gap in meetings.
"I have made attempts to have meetings in the past where Carl Anderson didn't respond," Goldfinch said. He is the chairman, a position that has traditionally rotated every two years.
"I have emailed and I have texted," Anderson said. " 'When are we going to have a meeting?' No response."
Anderson acknowledged receiving group text messages from Goldfinch.
"The way he sends a text, it's like he's not expecting me to respond," Anderson said. "It's just sad."
While the Democrats claimed the meeting in his office was a benefit to Goldfinch to "showcase his private law firm to the public," Goldfinch said they have met in Hewitt's office and Sabb's office in the past. "I think a few years ago we met in Carl Anderson's church," he added.
As to the complaint about lack of public notice, Goldfinch pointed out that several constituents and members the media attended.