District adds A.I. devices to search for weapons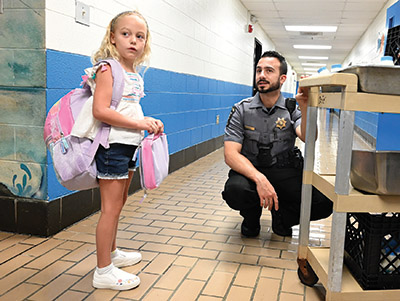 Deputy Joe Muto, the new resource officer at Waccamaw Elementary, helps Aurora Banks find her classrooom on her first day of kindergarten.
As school safety measures evolve, the Georgetown County School District changes to keep up with the times.
The district has ordered a "weapons detection system" for each middle and high school. The system looks like metal detectors, but uses artificial intelligence to identify specific shapes of potential weapons. People passing through do not have to empty their pockets or have their bags searched.
"This will be a tool that will help our schools potentially do more screenings because it's not as slow, it's not as intrusive. It will be a supplement," Alan Walters, executive director of safety, told the Board of Education this week. "We're not going to stick the metal detectors in the corner and not use them anymore. They're still a very important part of that security strategy."
The cost is about $2,500 for each set. They are portable and can easily be moved outside to be used at sporting events.
An addition coming to school bathrooms are sensors that detect vape or marijuana smoke; changes in air quality, like smoke or carbon monoxide; and an abnormal change in noise level that would result from a fight or an act of vandalism.
If trouble is detected, the sensors send an alert through the school's security camera system.
The district already has the devices, but is waiting for wiring upgrades to install them.
A new addition coming to the front office at each school is a bluetooth-enabled lockbox to hold a master set of keys for the building. In case of an emergency, if an administrator or building manager is not available, a first responder can open the box and get the keys.
Walters and his staff will also be able to open the boxes remotely using a phone.
Walters said this safety feature came out of the school shooting in Uvalde, Texas.
"We train our teachers and our students that if a school's in lockdown, you turn out the lights, you get in the corner and you don't open the door for anybody," Walters said. "As we saw in some of these incidents, the first responders had trouble getting into some of these classrooms. People inside aren't going to let you in, and they've got to find a way to get in."
During the summer, district staff took part in reunification training, which covers how to get students back together with their parents after an incident at a school.
Each employee is assigned a specific duty and carries a card with those duties written on it. If that person is absent on a day reunification is needed, someone else can take a duplicate card and perform those duties.
Parks and Recreation employees were also trained since the gym at the Beck Recreation Center, which is connected to the school district office, could be used as a staging area for reuniting students and parents.
For the first time, every school in the district has a full-time resource officer onsite.
The officers used to only be assigned to middle and high schools. A grant from the state Department of Public Safety helped pay for officers at all elementary schools, plus Waccamaw Intermediate and Coastal Montessori Charter schools
"To me, that was just a godsend," Walters said.
The officers work for either the sheriff's office, or the Georgetown Police Department for schools within the city limits, and are specially trained to work in schools.
The training also means when they accompany students to other counties, like for sporting events, they have the same authority as a law enforcement officer in that county.