District budget feels impact from virus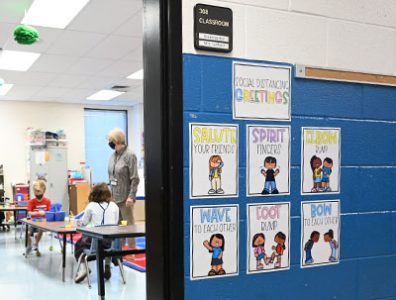 Social distancing ideas at Waccamaw Elementary.
The combination of fewer students, more expenses due to COVID-19 and the lack of a new state budget is a headache for the Georgetown County School District.
"We're planning for the worst, trying to make sure we cover our basic obligations because we don't know when this will end," Lisa Johnson, associate superintendent for finance and technology, told the school board this week.
The district is operating at 2019-20 budget levels because it does not know how much funding it will receive from the state for 2020-21. Because it is an election year, the earliest the Legislature can start discussing a new budget is Jan. 13.
Until a new state budget is passed, step increases for district employees are on hold.
The 2020-21 proposed budget was based on an enrollment of 8,699 students in grades K-12. The actual enrollment is currently 8,341.
Pre-K enrollment also dropped from 336 in 2019-20 to 182 in 2020-21.
Johnson said the enrollment numbers could increase as the school year progresses.
The district also based the amount of teachers it needed on the 8,699 projection.
"We are not relinquishing any teaching positions, we're holding on to them," Superintendent Keith Price said. "So that means we have to be very creative with where we find the funding to hold on to those."
When schools closed in mid-March, the district continued to pay and provide benefits for non-contract employees such as temporary bus drivers and paraprofessionals until the end of the school year. That ended up costing $750,000.
"I'm sure our employees were extremely grateful that they didn't have to live on unemployment until after that," Johnson said.
Johnson told the board last month that the district has instituted a hiring freeze for non-essential workers, and said this week that the district is being "very conservative" with purchasing.
All district programs will be reviewed for cost vs. benefit, Johnson added, and cuts will need to be made.
Some cuts will be mitigated by $2.6 million the district is getting as part of the CARES Act, which Congress passed to provide COVID-19 relief to states.
"That's federal money, so lots of strings, lots of rules," Johnson said. "So we're having to be very careful, but we're also trying to make sure we're using that revenue where we can."
CARES Act funds distributed by the state Department of Education covered the $459,000 tab for the district's "learn, evaluate, analyze and prepare" (LEAP) days at the end of August for all K-8 students
Johnson said the district is waiting to get information from the county on its property reassessment. There are concerns that some residents may not be able to pay their taxes for this year because they've been out of work during the pandemic.
The state lost 102,700 jobs between August of 2019 and August of 2020, with the hospitality industry taking the biggest hit, Johnson added.
Last month the board authorized a tax anticipation note, not to exceed $3 million, in case of a shortfall in tax payments.
The last time the district took this step was 2009.
Board Member Mike Cafaro recalled having to take 10 furlough days when he was principal at Georgetown High School.
"We might have to revert back to the bad old days of 2008," Cafaro said.
"One big difference is the state and the feds have come up with big chunks of money to hopefully get us through some of this," School Board Chairman Jim Dumm said. "Hopefully it's not going to be as long-term as the crash back in 2008 was. That went on for several years. Hopefully the economy is going to bounce back a whole lot quicker than it did back then."