District creates three options for school opening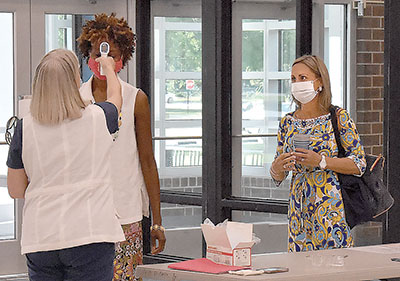 The audience is screened before the school board meeting at Georgetown High.
The Georgetown County School District will offer a completely virtual option for the new school year, but parents will have to decide quickly if that's what they want for their child.
The deadline to apply to the "Georgetown Virtual Program" on the district's website is Wednesday.
"I can't adequately express how difficult a task this has been for everyone involved," Superintendent Keith Price said. "As you can imagine, there is no textbook or guide or course you can take on how to open and manage a classroom, a department, a school or a school district in the midst of a global pandemic."
District staff unveiled three plans during a three-hour school board meeting on Tuesday morning. The virtual option is part of the "remote" plan. The other two plans are "hybrid," which has students divided into two groups and in school two days a week, distance learning two days, and then at home for a flexible day; and "prime," which has students and teachers reunited in classrooms.
"I wish we could present a perfect plan that gave everyone exactly what they wanted without any fear of health and safety implications," Price said. "While it is not a perfect plan, I do feel that it is a good plan that keeps the health and safety of all those involved in the forefront of all we do while focused on providing a quality and engaging experience regardless of the option chosen or the phase that we may be in."
Virtual learning is not e-learning, Price has stressed.
Students will take online classes led by district teachers during normal school hours, with time built in for classroom discussion and small group instruction.
"In our middle schools, we will follow a bell-to-bell schedule," said Genia Smith, the district's executive director of federal and state programs.
High school students will also have the option of taking Virtual SC and APEX courses, although they will have to get permission from their guidance counselor.
Smith stressed the importance of parents of high school students consulting with guidance counselors before signing up their child for the virtual option. Some fine arts classes won't be available, and students enrolled in career and technology classes will have do some in-person work at schools to complete the course.
Students in virtual classes will be allowed to participate in extracurricular activities, but the district will not provide transportation to and from schools for activities.
It is possible that a virtual class could be attended by students from all areas of the district, rather than just one school.
Parents will be asked to "commit" to keeping their child in the virtual option until the end of the semester, even if all the district's other students return to regular classes.
The school board approved the calendar for the new year, which has school starting on Sept. 8.
However, some elementary and middle school students will get a head start.
The General Assembly approved funding for five additional in-person instructional days for students in pre-kindergarten through eighth-grade and gave districts the option of which students to bring back.
Georgetown decided to bring all students in for one "learn, evaluate, analyze and prepare" day during the week of Aug. 24.
"LEAP days will help us get a jump start on all of the assessments that will be required by our state for students in order for us to adequately prepare our teachers and our students," said Federick Cohens, the district's executive director of curriculum and instruction.
Elementary school students will be in school from 7:30 a.m. to 2 p.m. and middle school students from 9 a.m. to 4 p.m. All students will have breakfast and lunch, meet staff members, take part in activities geared toward social and emotional needs, and take assessment tests.
The district has split students up by last name to try and get an equal amount of students in schools each day. The schedule is: Aug. 24, A-D; Aug. 25, E-H; Aug. 26, I-L; Aug. 27, M-P; and Aug. 28, Q-Z. Attendance is not mandatory.
On Aug. 10, the district will announce what plan it will implement for the start of school. That plan will only be for September.
"There are a lot of things that need to be in place to have a successful launch to our school year," Price said.
On Sept. 1, the district will announce the plan for October, and then follow with announcements one month in advance.
"Day two should be better than day one. Week two should be better than week one," Price said. "Our hope is that this plan will be temporary and we will resume more normal operations soon after the spread of this virus slows or an approved treatment is made available."
Alan Walters, the district's executive director of safety, said the plans are flexible and can be changed if the district reopens fully and then the COVID-19 numbers increase again.
"We're not going to put people at undue risk," Walters said. "We're going to make those decisions very carefully."
The district will be able to partially switch to a virtual option, even for just one school, if there is a spike in cases, Price said.