District cuts quarantine days for those with negative tests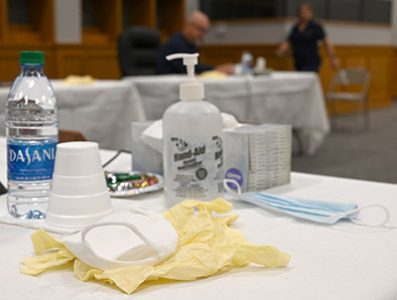 The district had nearly 2,700 students in quarantine earlier this month.
The Georgetown County School District has amended its quarantine policy to shorten the time students exposed to COVID-19 spend away from the classroom.
However, students must produce a negative COVID test, taken at least five days after exposure, to return to class in seven days instead of 10 days.
The district started the school year Aug. 18 with six students and 21 staff members who had tested positive, and 176 students and 10 staff members in quarantine. By week three on Sept. 2, those numbers had increased to 33 students and 237 staff members who had tested positive, and 2,639 students and 48 staff members in quarantine.
"The plan we had at the beginning of the year was not adequately servicing us through the slate of challenges that we already encountered," Superintendent Keith Price told the school board this week. "The Delta variant is impacting our students, and our learning environments, unlike anything we dealt with last year."
Students who are fully vaccinated, or who tested positive for COVID-19 in the previous 90 days, do not have to quarantine if they don't have any symptoms.
As of Wednesday, the district's numbers were 21 students and 142 staff members who had tested positive, and 1,596 students and 27 staff members in quarantine.
Dr. Michelle Steffen, a pediatrician who serves on the district's medical advisory board, said quarantines can be shortened because people who get infected with the Delta variant exhibit symptoms faster than those infected with the original strain of COVID-19.
"We can identify which children and staff are infected sooner and isolate them," Steffen said. "Then we can get children and staff who are not infected back to school sooner, which provides a better balance between infection control and the academic and emotional needs of our children."
Children are also getting sicker and spreading the Delta variant more than the original strain, Steffen added.
Steffen is concerned what the effect the increased testing will have on doctors' offices, which are operating above capacity.
"I don't know that our private practices will be able to manage that volume while also seeing children who are in need of medical care," she said.
Alan Walters, the district's director of safety, said staff is working out a plan to have free testing clinics at the county's four high schools twice a week.
Steffen urged to people who are eligible to get vaccinated and parents to make their children to wear masks in school.
"I think our community can make children a priority without a mandate," Steffen said. "We can decrease the risk of becoming infected and reduce the need for virtual instruction."
School Board Chairman Jim Dumm asked Steffen when the vaccines will be available for children under 12.
"Not soon enough," Steffen said, adding that doctors want to make sure the vaccines are safe for younger children before they drop the eligibility age to 5.
Steffen said she heard the eligibility age would drop at the end of September, but said November is probably more realistic.
In other business, the district's current enrollment is 8,141 students.
Last year at this time the enrollment was 8,195.
Price said enrollment is not yet back to pre-pandemic numbers.